Ottavio Nouvelli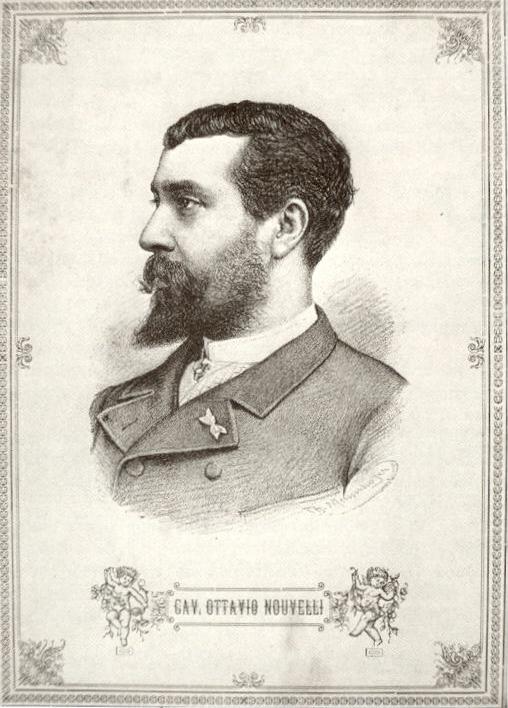 Ottavio Nouvelli was born on June 21, 1853 in Torino. He started to study singing in 1872 at the Liceo Musicale di Torino with maestro Fassò.

On March 31, 1876, Nouvelli made his first public appearance in excerpts of Mosè at the Teatro Rossini in Torino. He was heard by the renown violinist Sivori, who took him with him during March 1877 for a concert at the Théâtre Italien in Paris.

Escudier, the impressario of the theater, hired him immediately to make his debut as Lyonel in Martha. Lyonel became one of his favorite roles. The following year Nouvelli sang at the Théâtre Italien in Linda, Traviata, Sonnambula and Aida, besides singing on April 9, 1878, in the third revision of L'esclave de Camoëns (by Flotow) under the new title Alma l'incantatrice as Camoëns.

During the season 1878-1879, he was at the Liceo in Barcelona; during the spring-summer season of 1879 he was at Covent Garden singing in Don Giovanni, Dinorah (with Patti), Ballo in maschera, Stella del nord, and during winter 1879-1880, he sang at the Imperial Opera in Saint Petersburg.

In October 1881, he was the protagonist in Roméo et Juliette at the Comunale in Bologna, then he went to Monte Carlo for the 1882 spring season, and during the summer he was at the Teatro Nazionale in Buenos Aires. On November 12, 1882, he was back at the Comunale in Bologna singing Lohengrin with Mancinelli conducting.

He was again at the Théâtre Italien singing in Simon Boccanegra (27 November 1883) with Litwinoff, Maurel and De Reszke with Faccio conducting, Rigoletto in March 1884 replacing Gayarré, and Sonnambula with Nevada and Sembrich who alternated.

The following year, he was in Palermo and in Barcelona for the autumn season. In 1886, he sang at the Carlo Felice in Genova, and Carmen at the Politeama Margherita. In 1887, he was in Nice for the spring season, at the Comunale in Bologna for the autumn season singing in Hérodiade and Carmen, before going to Prag to sing at the National Theater.

On December 26, 1887 he sang in Regina di Saba at La Scala with Faccio conducting, while on June 2, 1888 he sang Tristan at the Comunale in Bologna with Martucci conducting.

During October 1889, Nouvelli was at the Costanzi in Rome (Carmen, with Mugnone conducting); on December 26 he sang at La Scala in Meistersinger; he was Turiddu at the Politeama in Livorno (1890) and on January 24, 1891 at La Fenice.

He retired after singing in the Ninth Symphony by Beethoven at the Regio in Torino during April 1892. He moved to Warsaw where he taught singing at the conservatory and took part in many benefit concerts.

His death on January 19, 1901 was announced in the Gazzetta Musicale di Milano (31 January 1901). His coffin was transferred to the cemetery of Trana where he had a house in which he spent the summer months.

On November 25, 1883 he received a medal for bravery from the Mairie of the fourth arrondissement in Paris for having saved children from a burning appartment in Paris on October 10 (Il trovatore, October 18, 1883/number 42). In 1889, Nouvelli wrote a book La respiration et l'émission du son vocal, published in Warsaw.
Reference: Dietro il sipario, 1881–1898, Memorie e appunti del segretario della commissione teatrale Giulio Ferrarini, a cura di Valerio Cervetti, Città di Parma, 1885