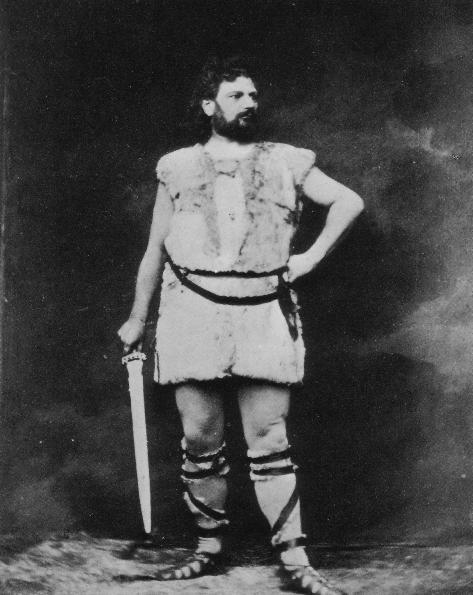 Unger as Siegfried
Georg Unger was born in Leipzig on 6 March 1837, and died in Leipzig on 2 February 1887. He studied theology, but later had his voice trained by Julius Hey and made his debut in Leipzig in 1867. Between 1867 and 1876, he had contracts, all for one or two years only, in Kassel, Bremen, Neustrelitz, Hamburg, Elberfeld, Mannheim and Munich. In Mannheim, he was heard by the legendary conductor Hans Richter, who drew Richard Wagner's attention to him. Wagner was enthusiastic, too, and as a result, Unger was invited to the first Bayreuth Festival in 1876, where he sang both Siegfrieds in the world premieres of Siegfried (16 August) and Götterdämmerung (17 August, merely one day later!!). He sang at two more opera theater as their regular member (Frankfurt 1877/78, Leipzig 1878/79), and then his career petered out with guest appearances until 1884, primarily in Leipzig, and a long tour of Europe with Angelo Neumann's troupe, where he was once more very successful as Siegfried.
Reference: Kutsch & Riemens
I wish to thank Lynn Samohel for the picture.