Yoshie Fujiwara
February 5th, 1898 – March 22nd, 1976
Yoshie Fujiwara was the founder of Fujiwara Opera Society ("Fujiwara kageki-dan" in Japanese). He was born in Shimono-seki, on the Western side of the main island of Japan, as a son of a Japanese mother and a British officer (?). Getting the inheritance from his father, he began to learn singing in either Italy or the UK, not in Japan for sure. At first, he was active as a concert singer in London. He recorded some arias (mainly Italian repertory), Japanese art songs, including some war songs. It is reasonable to believe that for him, as a 'half-blood', it was quite tough to gather the necessary funds for opera performances while coping with some discrimination against him; he had to behave much "more Japanese" than others, singing songs praising the Japanese army, Japanese imperialism etc etc...
His voice was a lirico-spinto or tenore lirico with an additional power. The voice itself is somewhat inside rather than forward. His best can be heard in the records made in US in the 1920s. To Mr. Tanaka's knowledge, he made no acoustic records. In Mr. Tanaka's opinion, among his best records are: 'Ko-jo no tsuki (The moon above an old castle)' composed by Rentaro Taki (the pioneer of the so-called modern Japanese art song at the turn of the century), some Shimpei Nakayama's art songs, 'Nambu ushi-oi uta' (a folk song from South Japan) and 'Carmela' (G. de Curtis).
There is a 3-CD set of his records (not complete) on 'King record'.
In RA format
Fringe tenor alert!!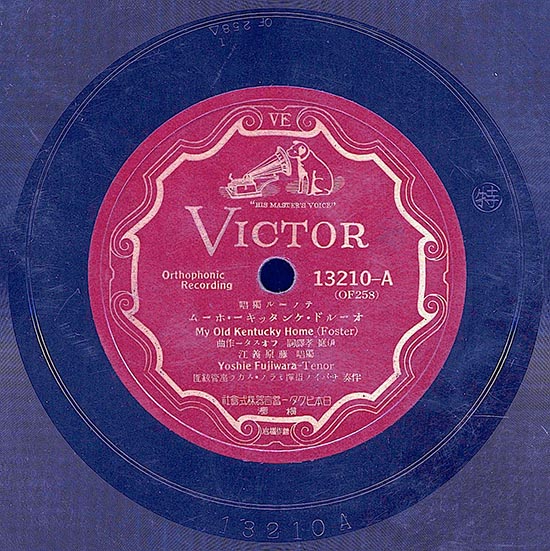 Many thanks to Anton Bieber for two recordings and label scans (Lustige Witwe, My old Kentucky home).
I would like to thank Mr. K. Tanaka for the biographical information.