Arthur Lheureux
1882 Frameries – 1950 Bonsecours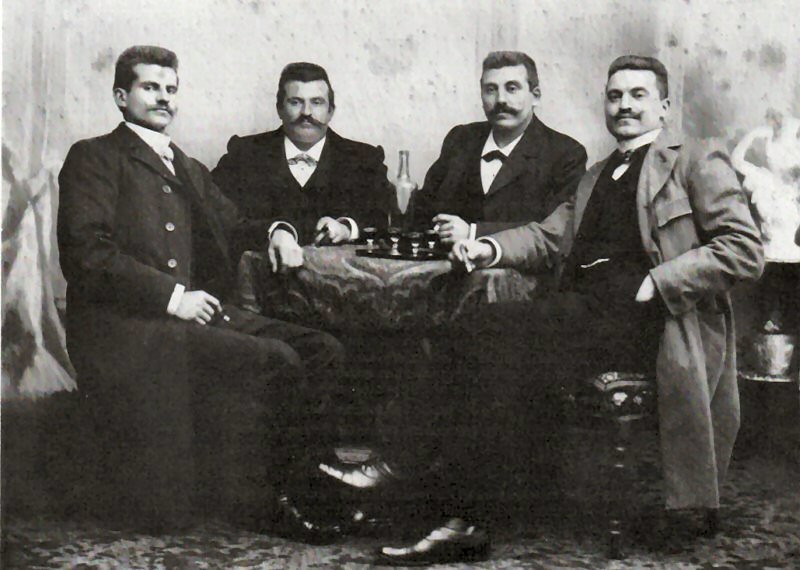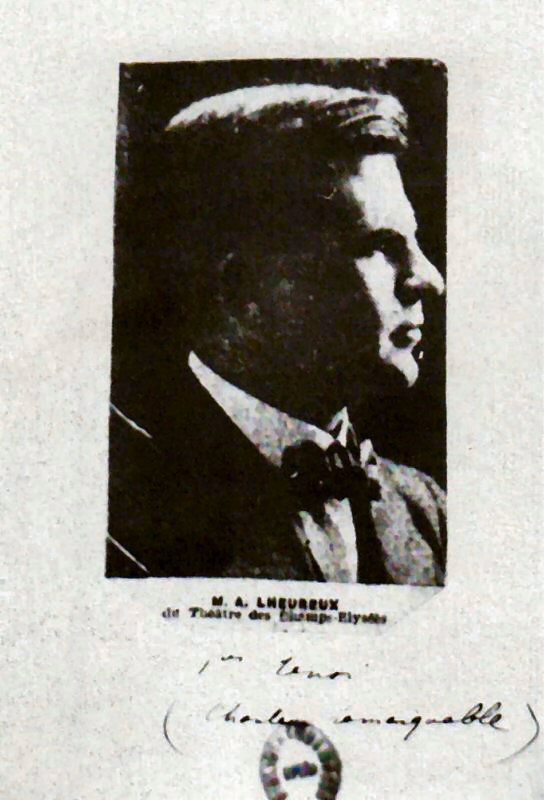 His father, a miner, died in a fire at the mines. Lheureux worked for thirteen years at a cobbler's shop. He was urged by his relatives to train his voice and he was accepted by Tondeur.

Lheureux studied with Achille Tondeur at the Mons conservatory (1901–1904), followed by further studies with Demest at the conservatory in Brussels (1905–1908).

He began his career at the Monnaie singing small roles from 1909 to 1911.

During 1911/12, he was in London. He then appeared in Nancy and Avignon, singing Le pays (Tual), Monna Vanna and Roma.

In 1913, he sang in Antwerp in Les béatitudes at the Société Royale d'Harmonie with Fernand Ansseau.

The same year, he sang at the Théâtre des Champs-Élysées in Pénélope (Ulysse on 10 May However he is not listed in the premiere cast where Muratore is listed), and Shujskij in the French premiere of Boris Godunov on 22 May 1913 with Shaljapin and Cooper (This is wrong as Shujskij was sung by Andreev).

Lheureux made his debut at the Opéra-Comique in Carmen on 16 January 1916. He sang there until 1925.

He sang now very often in the south of France and Monte-Carlo.

Monnaie

Season 1909/10
Eros vainqueur on 7 March 1910 (world premiere) as Le capitaine with Billot, La Taste, Artus, Dua, Danlée, Mme Croiza, Mme Dupré, Mme Béral, Mme Symiane, Mme Bastien, Mme Bérelly, Mme Sonia, Sylvain Dupuis (total 8)
Season 1910/11
Ivan le Terrible on 20 October 1910 (world premiere) as Le pope with Bourbon, Billot, Girod, Decléry, Dua, Colin, Mme Lamare, Mme Monfort, Sylvain Dupuis (total 18)
Quo vadis on 20 November 1910 as Néron with Saldou, Lestelly, Decléry, Billot, Ponzio, La Taste, Dua, Delaye, Danlée, Villier, Nerva, Dognies, Colin, Mme Béral, Mme F. Héldy, Mme Williame, Mme Giandini, Mme Sonia, Mme Zévane, Mme Paulin, Sylvain Dupuis (total 29)
Le feu de la Saint Jean on 11 March 1911 as Aspeck (world premiere) with Ponzio, Swolfs, Billot, Weldon, Delaye, Colin, La Taste, Dua, Mme Dupré, Mme Berelly, Mme Symiane, Mme Montfort, Mme Paulin, Mme Williame, Sylvain Dupuis (total 8)

Nancy

Le pays by Guy Ropartz, world premiere on February 3, 1912 with Rose Heilbronner, Léon Ernst, Guy Ropartz

Opéra-Comique

Carmen on 16 January 1916
He also sang Les quatre journées (Jacques), Béatrice (Fabrice, world premiere), Aphrodite (Philodene), Cavalleria rusticana (Turridu), Louise (Le noctambule and Julien), Manon (des Grieux), Sapho (Gaussin), Marouf (Le fellah and Un muezzin), Madame Sans-Gêne (Neipperg), and Pagliacci (Canio).

His repertory also included Hérodiade, Roméo et Juliette, Lohengrin, Messaline, and Faust.

In 1918, he was back in Brussels and also sang in Madrid both Louise and Carmen (1921).

The cities where he sang included: Toulouse, Bordeaux, Marseille, Lyon, Rouen, Dijon, Avignon, Strasbourg, Lille, Reims, Deauville, Cannes, Genève, Luzern, ...

He retired and moved to Mons to teach singing at the conservatory. He also taught at the conservatories in Braine-le-Comte, and La Bouverie. He taught until 1948, one of his students was Albert Delhaye.
I wish to thank Christian Torrent for the recordings and discography (and for the additions to the discography).
Anton Bieber has provided the Bohème and Carmen recordings plus label scans: thank you very much!
Repertory


La Juive (Léopold) – Brussels, Monnaie, 1909–11
Louise (Chansonnier) – Brussels, Monnaie, 1909–11
Rigoletto (Borsa) – Brussels, Monnaie, 1909–11
Tannhäuser (Walther) – Brussels, Monnaie, 1909–11
Eros vainqueur (Le capitaine) – Brussels, Monnaie, 7 March 1910
Ivan le terrible (Le pope) – Brussels, Monnaie, 10 October 1910
La favorite (Gaspard) – Brussels, Monnaie, 1909–11
Quo vadis – Brussels, Monnaie, 26 November 1910
Les maîtres chanteurs (Vogelsang) – Brussels, Monnaie, 1909–11
Armide (Artémidor, le chevalier danois) – Brussels, Monnaie, 1909–11
Sigurd (Irnprit) – Brussels, Monnaie, 1909–11
Aida (Le messager) – Brussels, Monnaie, 1909–11
Guillaume Tell (Ruodi) – Brussels, Monnaie, 1909–11
Katharina (Porphyrius) – Brussels, Monnaie, 1909–11
L'Africaine (Don Alvar) – Brussels, Monnaie, 1909–11
La traviata (de Letorières) – Brussels, Monnaie, 1909–11
Le feu de la Saint-Jean (Aspeck) – Brussels, Monnaie, 28 March 1911
L'attaque du moulin (Capitaine français) – Brussels, Monnaie, 1909–11
Le pays (Tual) – Nancy, Opéra, 1912/13
Monna Vanna (?) – Nancy, Opéra, 1912/13
Les maîtres chanteurs (?) – Nancy, Opéra, 1912/13
Roma (?) – Nancy, Opéra, 1912/13
Boris Godunov (Shuiskij) – Paris, Th. Des Champs-Elysées, 11 July 1913
Pénélope – Paris, concerts Colonne, 1913/4
Carmen (José) – Paris, Opéra-Comique, 16 January 1916
Les quatre journées – Paris, Opéra-Comique, 1916–25
Béatrice – Paris, Opéra-Comique, 1916–25
Aphrodite – Paris, Opéra-Comique, 1916–25
Louise (Noctambule) – Paris, Opéra-Comique, 1916–25
Cavalleria rusticana (Turiddu) – Paris, Opéra-Comique, 1916–25
Louise (Julien) – Paris, Opéra-Comique, 1916–25
Manon – Paris, Opéra-Comique, 1916–25
Sapho – Paris, Opéra-Comique, 1916–25
Marouf (Le fellah, Un muezzin) – Paris, Opéra-Comique, 1916–25
Madame Sans-Gêne (Niepperg) – Paris, Opéra-Comique, 1916–25
Paillasse – Paris, Opéra-Comique, 1916–25
Roméo et Juliette
Hérodiade
Faust
Messaline
Lohengrin

Discography

Lyrophon, Paris, 1909 (?)
P1901	Aida (Verdi): Ô céleste Aïda						Parlophone 172
P1902	Rigoletto (Verdi): Comme la plume au vent				Parlophone 172
P1905	Mon gentil Pierrot (Leoncavallo)					Parlophone 174
P1908	La valse de la neige (Tac Coen)						Parlophone 173
P1909	Berceuse nègre (Clutsam)						Parlophone 174
P1910	La marche de Paris (Popy)						Parlophone 177
P1911	Fiançailles (Wesly)							Parlophone 173
P1913	Que ne peut on rêver toujours (Goublier)				Parlophone 177
	La muette de Portici (Auber): Amour sacré de la patrie (w Culot)	Parlophone 180
	Les pêcheurs de perles (Bizet): Au fond du temple saint (w Culot)	Parlophone 180
P2090	Mignon (Thomas): Adieu, Mignon, courage					Parlophone 376
P2091	Mignon: Elle ne croyait pas						F2091, Parlophone 377   
P2092	Mattinata (Leoncavallo)							F2092, Parlophone 378 
P2093	Paillasse (Leoncavallo): Pauvre Paillasse				F2093, Parlophone 379
P2094   Manon: Le rêve								F2094, Parlophone 380
P2095	Manon: Ah! fuyez							F2095, Parlophone 379
P2111	La mule de Pedro (Massé)						Parlophone 392
P2113	Bohème (Puccini): Ah, Mimi s'en est allée (w Culot)			Parlophone 397
P2123	Ave Maria (Gounod)							F2123, Parlophone 455
P2155	Carmen (Bizet): Je suis Escamillo (w Culot)				Parlophone 490
P2156	La forza del destino (Verdi): Solenne in quest'ora (w Culot)		F2156
Reference: Les grandes voix du Hainaut, à l'époque du 78 tours, Belgium, 1985.
Richard T. Soper: Belgian opera houses and singers, The Reprint Company, Spartanburg, South Carolina, 1999.
Additions to the discography from Gesellschaft für historische Tonträger, Wien