Julius Lieban
Julius Lieban as Mime
Julius Lieban was born in Břeclav/Lundenburg on February 19th, 1857. He was one of four singing brothers: Adalbert and Siegmund (baritones) and Adolf (bass). The son of a Jewish cantor, he ran away at age 14, and played violin in a gypsy band, then in the orchestra of the Theater an der Wien. Still in Vienna, he studied voice with Joseph Gänsbacher and made his debut, first a baritone, singing Rigoletto and Luna in Leipzig. He soon realised that his voice was changing into tenor, and his career developed along the buffo-tenor lines. He became famous as Mime and Monostatos and the four servants in Les contes d'Hoffmann. His career was primarily German and centered on the Hofoper/Staatsoper Berlin, but he sang at the Salzburg Festival and in other European theaters. He formed an important singing school and taught Peter Cornelius and Mafalda Salvatini. He died in Berlin on February 2nd, 1940. Lieban's early G&Ts and Odeon are great rarities.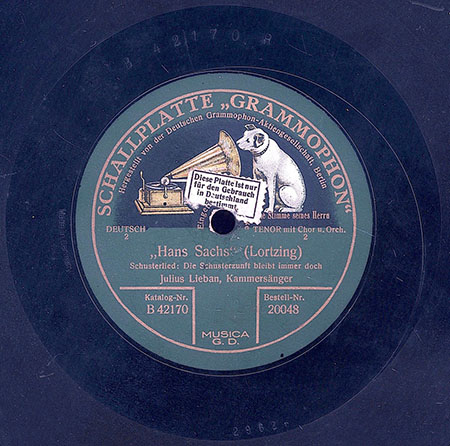 In RA format
In RA format
Lieban as a soprano
Many thanks to Anton Bieber for the Hans Sachs recording and label scan.
I wish to thank Vladimir Efimenko for the recordings (Undine, Waffenschmied), portrait picture and notes.