Herbert Doussant
7 September 1931 New York – 29 October 2018 New York
Herbert Doussant in Carmen with Leonore Lanzillotti
In RA format
In RA format
In RA format
In RA format
Originally working in several different jobs (for instance as an insurance agent), Doussant studied voice with Douglas Stanley and Paul Weiner, and made his debut in Mainz in 1958 as Stolzing. He spent his career mostly at middle-sized theaters; after Mainz (until 1960), he was in Kiel until 1963, and in Krefeld from 1966 to 1969. Other than that, he sang in Düsseldorf, Duisburg, Nürnberg, Essen, Wiesbaden, Mannheim, Hannover, Berlin (Komische Oper), Athens, Houston, San Antonio, Honolulu, Philadelphia, Torino, Bologna, Ciudad de Mexico... but also, as far as more important theaters are concerned, in Munich, Frankfurt and Cologne.
He was an advocate of Stanley's much debated method of singing, and served as the photographic model in the illustrated edition of Stanley's book "Your voice".
---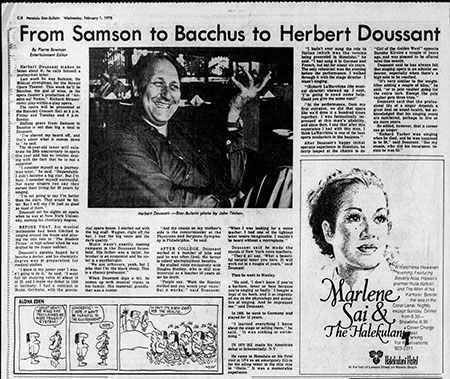 click to enlarge
Many thanks to Pedro H. Zamagna for the Stanley book scans, and for the interview.