Charles Hargreaves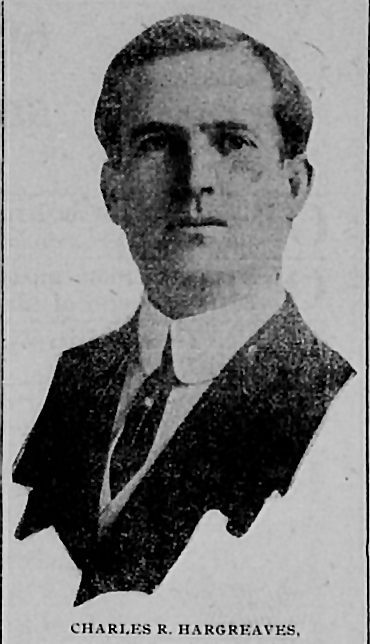 Charles Hargreaves, often Charles R. (as in Robert) Hargreaves, was a US concert tenor of secondary importance in the early 20th century. Probably born or at least grown up in Detroit. The earliest proof for his activity that I can find is from 1904, New York City:
Proctor's 125th Street Theatre – Rival candidates, is the dramatic, or rather farcial offering for the week of Aug. 22. The vaudeville section of the entertainment is made up of the Three De Faye Sisters, musician; Gregory and Lind, hoop rolling specialty, and Charles R. Hargreaves, tenor singer. Moving pictures close the show.

The Billboard, 27 August 1904
He also sang opera when possible; early in his career, he was obviously with the Boston Opera (at least, that's what one of his later publicity texts recites). Other than that, he specialized (according to that publicity text) in oratorio and concert. About 1908 and 1909, he spent two years in Germany for vocal studies. On 20 February 1910, he sang – recently returned from Europe – at Sunday morning mass in St. Paul's cathedral in Detroit.

His career peaked in the years 1911 and 1912. In spring 1911, he was the tenor soloist in a tour of the Minneapolis Symphony Orchestra; the following concerts were given (list is probably incomplete):
31 March afternoon/31 March evening Methodist Episcopal Church, Lansing (Minnesota)
11/12 April: Washburn College, Topeka (Kansas)
9 May: University of Illinois, Champaign-Urbana
12/13 May: Theatre, Moline (Illinois)
23 May: Mitchell (South Dakota) – not part of the Minneapolis Symphony tour proper, but with the same soloists: piano accompanied, on this occasion
30 May: College, Jamestown (North Dakota)
31 May/1 June: Valley City Normal School, Hope (North Dakota)
There were three other soloists beside Hargreaves, and the star of the enterprise was clearly bass-baritone Marcus Kellerman. They had several concert programs: one mixed program of operatic and concert selections, whose highlight was Bella figlia dell'amore; one with Mendelssohn's Elijah; one with Mendelssohn's cantata Hymn of praise; one Wagner only, where Hargreaves performed in the complete third act from Lohengrin; and one with Verdi's Requiem.

From January to April 1912, he sang at the New York Met, tiny roles only, and merely eight performances. It was enough to label him "former Met tenor" for the rest of his life.

Just a few days after his eighth and last Met evening, he had his moment of true fame. He sang the leading tenor role of Dr. Marcus Whitman in the world premiere of Narcissa or The cost of empire by Mary Carr Moore in Seattle (22 April 1912). That was a remarkable endeavor in many respects: one of the works that tried, at that time, to establish American opera; an opera by a woman composer and a woman librettist, Sarah Pratt Carr, in 1912 (!); the world premiere conducted by the female composer herself; a libretto dealing with a historical massacre committed by native Americans against Christian missionaries that treats the native Americans nonetheless with respect and even with sympathy.

In 1914, Hargreaves was back to his usual fare. He was the star of a May Festival in Alma, Michigan, singing the tenor part in The rose maiden (cantata by Frederic Hymen Cowen). In 1915, he had moved back to Detroit from New York City, and gave concerts, for instance on 30 March at the Arcadia hall, and on 1 May at the Hotel Statler for the Ohio Society.

In 1923, he was again living in New York City, advertising his services as a voice teacher on Upper West Side. By 1939, he was living in Chester, Pennsylvania:
Charles R. Hargreaves, well known in Chester circles and for several years leading tenor in the choir of Madison Street Methodist Episcopal Church, will sail on Tuesday next for Europe where in the music centers of the old world he expects to achieve fame and perhaps fortune.

Chester Times, 25 April 1939
This was in April 1939... utterly bad timing! People tended to cross the ocean in the opposite direction at the time.

In January 1953, Charles R. Hargreaves' son John fell from his bathroom window in Manhattan – from the 10th floor, that is. He had panicked over a small and harmless fire inside his apartment, and was of course immediately dead. His father was still alive at the time, living in Schroon, State of New York.

Reference 1: The Illio 1912, Urbana 1912; reference 2: The Topeka Daily State Journal, 8 and 12 April 1911; reference 3: Urbana Daily Courier, 4 May 1911; reference 4: The Hope Pioneer, 8 June 1911; reference 5: The Champaign Daily News, 9 May 1911; reference 6: The Fargo Forum and Daily Republican, 3 June 1911; reference 7: The Rock Island Argus, 28 April and 13 May 1911; reference 8: The Mitchell Capital, 25 May 1911; reference 9: Jamestown Weekly Alert, 1 June 1911; reference 10: Mower County Transcript, 22 March 1911; reference 11: Daily Illini, 22 April 1911; reference 12; The Detroit Times, 19 February 1910; reference 13: Metropolitan Opera archives; reference 14: Aaron Ziegel, Crafting the soundworld of American opera 1910–1912, in: Frédéric Döhl/Gregor Herzfeld (ed.), "In search of the 'Great American Opera'". Tendenzen des amerikanischen Musiktheaters, Münster/New York 2016, p. 42; reference 14: Aaron Ziegel, Making America operatic: six composers' attempts at an American opera 1910–1918, dissertation, University of Illinois, 2011, pp. 80 & 364; reference 15 and picture source: The Alma Record, 7 May 1914; reference 16: The Detroit Times, 22 and 29 March and 20 April 1915; reference 17: Musical America, 14 July 1923; reference 18: The Adirondack Record – Elizabethtown Post, 22 January 1953

In RA format
The selection that Hargreaves is singing is pretty interesting and unusual: this is "Laternen der Liebe" from Carl Michael Ziehrer's operetta "Der Liebeswalzer", which is considered the last work of the so-called Golden Era of the Viennese operetta, but now completely forgotten. In 1911, it was a success on Broadway as "The kiss waltz", that's why there is this English version. On the web, there is no score and no complete recording available of this work, just excerpts on a Preiser CD - and on that CD, "Laternen der Liebe" is sung by a soprano! So I don't know whether Hargreaves is disguising as a soprano here, whether the same song (as it's often the case in operetta) is sung more often throughout the work, and also by the tenor; or whether they've assigned it to the tenor in the English version (for which the work was slightly overdone).