Joseph Victor Ladéroute
6 June 1913 Sault Sainte Marie (Ontario) – 1 May 1979 Belmont (North Carolina)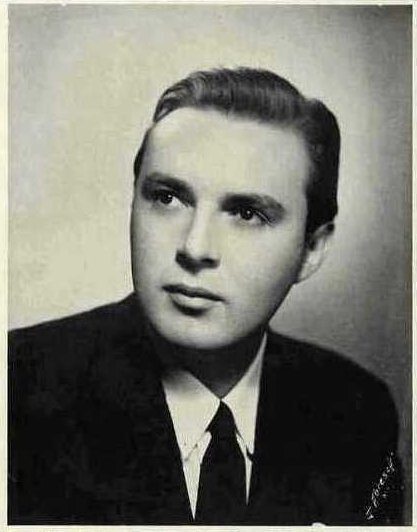 Joseph (Victor) Ladéroute. Tenor, teacher, b Sault Ste Marie, Ont, ca 1913. Born of French-Canadian parents, he sang as a child in the parish choir and at seven began studying singing with Mrs S. L. Pieke. Three years later he entered the Paulists' Seminary in New York and toured in the USA 1927/28 as soloist with the Paulist Choristers. He continued his voice training in New York with Léon Rothier. He studied ca 1942 with Salvator Issaurel in Montreal.

In 1938 Ladéroute was soloist with the Toronto Mendelssohn Choir in Berlioz' Requiem. He was a soloist with the Dessoff Choirs in New York in 1940 and gave a recital at the Ladies' Morning Musical Club in Montreal the same year. He appeared with the orchestras of Chicago 1939/40, Detroit (Elijah) in 1940, and Toronto in 1940, and sang again with the TSO in the Canadian premiere of Mahler's Das Lied von der Erde in 1945. He was Jacquino in the 1944 NBC SO broadcast of Fidelio under Arturo Toscanini; the performance was released later as a recording (2-RCA Victor LM-6025). At the Berkshire Music Center in Tanglewood, Mass, he appeared in the title roles of the US premieres of two major operas: Britten's Peter Grimes in 1946, and Mozart's Idomeneo in 1947.

With the Opera Guild of Montreal Ladéroute sang the Astrologer in Le coq d'or (1944), Florestan in Fidelio (1946), and Manrico in Il trovatore (1949). Thomas Archer described him in The Gazette on 4 May 1946 as 'possibly the best choice that could have been made on this continent for the role of Florestan. [His portrayal was] a striking creation in many respects'. In 1948 he sang the title role in Faust at the Mount Royal Chalet for the Montreal Festivals.

Ladéroute was a soloist at the Bach festivals in Bethlehem, Pa, and in Cincinnati, and sang five roles in the North American premiere (1948) of Honegger's Jeanne d'Arc au bûcher with the New York Philharmonic Orchestra. He gave many recitals in Town Hall, New York, and on the NBC, CBS, and MBS networks, as well as on the CBC. He was director of vocal studies 1952–54 at the Jordan College of Music of Butler University, Indianapolis, and later taught at the Kansas City Cons and the Peabody Cons, Baltimore. He eventually abandoned his musical career to become an Oblate at the Benedictine monastery in Belmont, NC.
Author: Gilles Potvin, Copyright: The Encylopedia of Music in Canada.
In RA format
I wish to thank Georges Voisin for the recording.
Picture source: Bach Cantatas