Rodolphe Plamondon
18 January 1867 Montréal – 28 January 1940 Montréal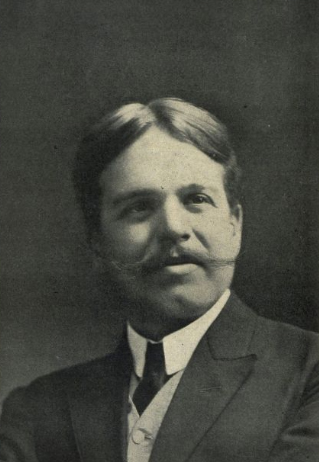 He studied voice and cello, first in Montréal, then in Rennes and Paris. He made his debut as a cellist in 1896, and sang as a tenor in Paris salons, where he met Massenet and Reynaldo Hahn.

His tenor debut in front of larger audiences took place in June 1897 in London, Windsor Hall, supporting Nellie Melba. His Paris debut was on December 31st of that same year, in a church concert with Jean-Baptiste Faure. So from the very beginning, he appeared in really prominent artistic contexts. In June 1898, he sang a concert at Royal Albert Hall with Pol Plançon and Clara Butt.

In opera, he took a slower start, as a comprimario in Vichy (1899) and Cairo (1900). During those first years, he continued to perform also as a cellist.

He sang his first main roles in opera 1906 in Monte Carlo: three times Faust, in Faust, Mefistofele and La damnation de Faust; the latter was to become his most important part, he sang it 250 times either on stage or in concert; it was also his debut role at the Paris Opéra on 6 June 1906.

However, his concert career was always more important than his operatic efforts, and he abandoned the stage (with but very few later exceptions) before WWI, remaining active as a very prominent concert tenor, mostly in France, but also in his native Canada or in Belgium. Saint-Saëns and d'Indy held him in high esteem and had him première some of their songs.

In 1928, he returned to Canada for good; his singing career was practically over, and he devoted most of his time to teaching voice.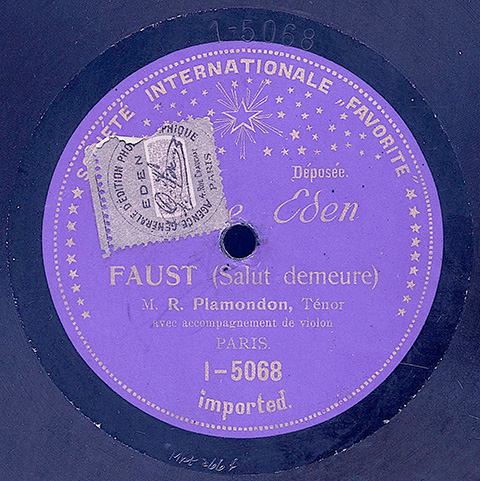 Rodolphe Plamondon sings
Faust: Salut, demeure

Very rough start, but no worries, it's just the first few grooves.
Discography
Disque Eden (Favorite), Paris ca. 1905-01/02
	Mignon (Thomas): Elle ne croyait pas
	À toi (Bemberg)

Disque Eden (Favorite), Paris ca. 1905-02
356-f 	Manon (Massenet): Ah! fuyez, douce image
366-f 	Faust (Gounod): Salut, demeure						1-5068

Starr, Toronto
1923-11-04
1988 	Minuit chrétiens (Adam) (p: R. Battle)					18005-A, Col. 34032-F
1991 	Notre Père qui êtes aux Cieux (Henry Busser) (p: R. Battle)	 	18005-B, Col. 34032-F
1992 	Pauvre laboureur (Tiersot) (p: R. Battle)	 			18006-A
1995 	O Canada, mon pays, mes amours! (J.B. Labelle) (p: R. Battle) 		18006-B
1925-11-15
2005 	Paysage (Hahn) (p: R. Battle) 						18007-B, Col. 34034-F
2006 	La fontaine de Caraouet (Omer Letorey) 					18007-A, Col. 34034-F
1925-11-24
2031 	Coeur solitaire (Léon Moreau) (p: R. Battle) 				18008-B
	Rosemonde (R. Chansarel) (p: R. Battle) 				18008-A
1926-01-27
2121 	Il neige (Bemberg) (p: R. Battle) 					18010-B
2122 	Un fée (Gaubert) (p: R. Battle) 					18010-A
2131 	Serenade Schubert w. violine obl. & piano (Rex Battle) 			18009-B
2133 	Ave Maria (Bach-Gounod) (p: R. Battle) 					18009-A
1926-11-12
2707 	Lettre à Jésus (Mulder) (p: Magdeleine Comtois) 				18012-B
2708 	Le Noël des mésanges (Edmond Missa) (p: Magdeleine Comtois) 		18012-A
1927-03-30
2733 	Les rameaux (Faure) (p: Magdeleine Comtois) 				18014-A
2734 	Les cloches sont revenues (André Fijean) (p: Magdeleine Comtois) 	18014-B

Other than that, he also recorded on Odeon (probably in 1908).
Many thanks to Anton Bieber for the recording, the label scan and the discography.