Willy Franter
15 May 1911 Vienna – 2 September 1966 Vienna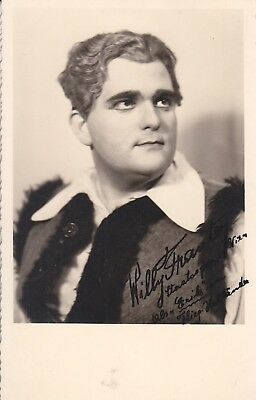 In RA format
I don't know too much about Willy Franter: debut 1938 at the Vienna Volksoper, sang both there and at the Staatsoper, 1946–49 in Munich, 1949–51 in Wiesbaden, 1954/55 in Coburg; had both comprimario and heroic roles in his repertory (Parsifal, Tannhäuser, Dalibor, Manrico, Canio, Pedro). And yet I was thrilled when I found his voice on this radio recording – it's quite probably the only recording he ever made (otherwise, his voice is documented just by some snippets from actual performances from the Vienna Staatsoper).

The reason why I had been familiar with his name long before finding this record is a minor but very significant historical occurrence... on April 20th, 1940, the Vienna Staatsoper was celebrating the Führer's birthday with a performance of Fidelio (yes, the spirit-of-freedom opera par excellence! – freedom, that's what average Nazis fantasized Hitler had brought them). Anny Konetzni sang Leonore, Willy Franter was Florestan. After Austria's liberation from the Nazi rule, the Staatsoper had to make do with an alternative accomodation for ten years, it's theater having been bombed, and they performed at the Theater an der Wien until reconstruction was complete. The very first Staatsoper performance at the Theater an der Wien took place on October 6th, 1945, and of course, it had to be Fidelio, the spirit-of-freedom opera par excellence... but as if that was not ironical enough, Anny Konetzni sang Leonore, and Willy Franter sang Florestan! For me, there is hardly a better illustration of how both the proudly "apolitical" operatic world and the Republic of Austria used to deal with the Nazi past after WWII.

Of the two tenors in this selection, Franter is the one who sings the opening bars, and Witt responds with one single line before the join into their duettino; or in other words, Franter is the one with the lighter, more forward voice who is pushing, and Witt the one with the rasping voice and the wobble who sounds like Rosvaenge's younger brother having catched cold.