Jonas Kaufmann
born 10 July 1969 Munich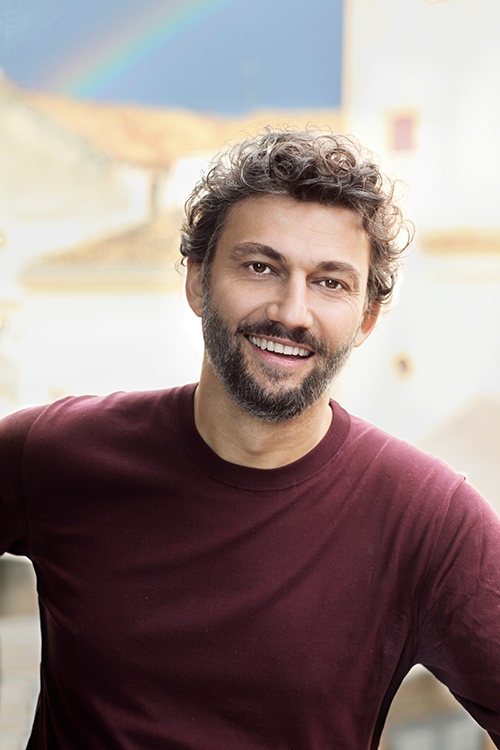 Kaufmann's official website (which is also the source for the above picture, © Julian Hargreaves)
...and, much better still, the unofficial website about Jonas Kaufmann
This unofficial website, run by a really big fan, is quite probably the best website on any contemporary tenor. Other than the usual bio- and discography and performance schedule, it has all available reviews (both record & performance reviews) from 1992 to this day, links to perhaps every other website reviewing Kaufmann, more pictures than any other singer's site, interviews with him, partly in audio format, and above all plenty, really plenty of sound and audio excerpts. A terrific achievement, I like the website definitely better than the singer.
It's pointless to give a complete account of Kaufmann's career, all the information is easily available everywhere, in all languages. After a few years as a light lyrical tenor in Saarbrücken (debut 1994) and Zürich, he made a world career of the very first rank, singing at every possible important theater or concert hall, being the celebrated center point of attention wherever he appears – Kaufmann is, in terms of fame, far and away the most important male superstar of early 21st century opera.

What is actually worth recounting is his amazingly likeable response to all the great song and dance about him: one would be hard-pressed, throughout operatic history, to find any singer more unspoiled by fame than Kaufmann. The typical comprimario at any given medium-sized theater is about 500 times more conceited than he is. In Vienna, an anecdote circulates: Kaufmann, already famous, sang at the State Opera, and had, like all singers, got a few complimentary tickets for friends or family. He went to the box office himself, patiently stood in line, then kindly greeted the clerk, saying "Hello, my name is Kaufmann, there should be some tickets set aside for me". Needless to say that everybody knew him, and that the box office clerk would have slipped under the red carpet at Kaufmann's feet if need be.

By pure chance, I once sat a whole evening next table to Kaufmann at a restaurant. And it was true: such a modest, down-to-earth, guy-next-door conduct is unheard of among artists (not just operatic artists). Clad in jeans and pullover, his body language light years away from exuding "importance", he told his dining companions about a recent concert tour just the way a plumber or roofer would tell about his work.

And he is, proven and tested by countless interviews, really intelligent to booth – as long as it doesn't come to his own singing.

Now with regard to such a nice person, it would be great to be able to say something nice about his singing, too. Very unfortunately, I cannot oblige. His vocal technique is evidently modeled on Del Monaco and company, involving enormous muscular effort. Apart from the stifled piano and hard-to-modulate, stiff notes that typically result from such a technique, it produces other unpleasant effects in Kaufmann's case: also his forte is muffled, and above all, his small-bore volume makes for an almost laughable contrast with all the enormous pressure he exerts on his body when singing. The natural voice is not at all big, and his technique seems to box it in his chest instead of setting it free. Which also makes him boring on stage: all that murmuring, with never any true outburst, soon gets pretty soporific.

Listeners who know Kaufmann only from record and radio will certainly be surprised; his voice is very "microphogenic", and doesn't seem small at all as soon as captured by a microphone. In a theater, it does; he is incapable of producing what would sound like a forte in a large hall, and though he sings almost constantly what is forte for his standards, it results in a mezzoforte at best for the theater audience. His (anyway faulty) piano can barely be heard in a live performance.

And of course, his dark baritonal timbre has enticed him and opera managers all around the globe to think he be suited for the heroic repertory: José, Canio, Siegmund, Parsifal, Otello, Alvaro, you name it – most of it sore failures, nevertheless greatly acclaimed by most everybody. It's pure madness for a voice that should sing Châteauneuf, Tamino, Alfredo, Macduff, Fenton, perhaps Lenskij, that kind of roles; certainly never anything more dramatic than Cavaradossi or Faust, and never at any large venue.

Wait, I know something nice to say: his CD with Viennese songs and Viennese operetta is really charming. And in spite of all the linguistic sniffing by zealots for the purity of Viennese dialect, Kaufmann masters that dialect way better than any other non-Viennese ever did.
The real voice of Kaufmann before Michael Rhodes changed his technique causing him to have vocal nodes twice.
In RA format
At slightly more than two minutes after the start, suddenly the voice does not sound small anymore but huge. The same trick as used for Flórez, just to name one. You can hear an excited female voice in the recording. It is Renata Scotto who finished her career with a big wobble caused by taking on the wrong roles, maybe she can advise Kaufmann.
I wish to thank Tom Silverbörg for the recording (Ah fuyez).