Wilhelm Leiseifer
13 September 1900 Efferen (near Cologne) – 3 October 1954 Efferen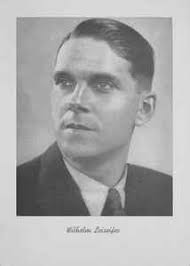 In RA format
He was a truck driver, and a passionate member of an amateur choir in his native village, where he soon got to sing solos, and gained considerable local prominence. Other amateur choirs invited him to help out as a soloist, and he gladly obliged. Amateur choirs were numerous, not only in the form of private associations: also companies used to have their corporate choir. At some time during the Great Depression, Leiseifer lost his job, and was unemployed for three years, before a lignite and briquette plant from nearby Hürth employed him, again as a truck driver – but certainly with the ulterior motive of enhancing their corporate choir, where Leiseifer had already sung some "guest" solos over the previous few years.
In May 1934, another company choir sang a concert on the Cologne radio, and they "borrowed" Leiseifer as a soloist; he impressed the radio people so much they asked him to come back the next day to audition. He did, and with his natural voice, easily reached up to the high D. The musical director of the Cologne radio offered Leiseifer to pay voice lessons for him, and he accepted. He needed to quit his driver job; so as to sustain him and his family, the Cologne radio station employed him in their choir. The voice lessons were tough for Leiseifer, who had never done any other than manual work; now, he had to read and learn music, and to learn standard German (he only spoke the local dialect).
In no time, the rumour that the Cologne radio had discovered a new singer spread, and already in July, the radio station's musical director decided to present two Leiseifer recordings (For you alone and 'O sole mio, he had produced them immediately after his new tenor's audition) to the listeners... albeit in a most unusual way: the presenter briefly told Leiseifer's story (a truck driver from the Cologne hinterland), but withheld his name – "first hear that voice". The listeners were thrilled, the radio station got many enthusiastic (and curious) letters – but refused to reveal Leiseifer's identity, and didn't present his voice again for almost half a year. Now the rumours said that the discovery had obviously turned out to be a failure. Finally, in December 1934, the Cologne radio broadcast a concert of opera and operetta tunes, with the participation of Leiseifer: with his full name, this time. He sang arias from Il trovatore, Aida, La bohème and Das Land des Lächelns; then, they played once more the two titles recorded in May, and after that, he sang the same two songs with his "new" voice: dear listeners, judge by yourself whether we did right to pay for his vocal studies. It was a huge success, not just with the listeners, but with concert promoters, as well: a star was born.
Shortly afterwards, the Cologne radio presented also the person Leiseifer, in a public radio concert at the Cologne Fair, in a hall for an audience of 4,000. From then on, the program of the Cologne radio was inconceivable without his regular participation. Radio was almost exclusively live back then, they only very rarely recorded anything; the selection Leiseifer had to sing most often was Mes amis, écoutez l'histoire (in German, of course), from Le postillon de Lonjumeau – Leiseifer's high D never ceased to fascinate radio audiences.
Before long, radio stations all over Germany were eager to book Leiseifer; he quit his job at the Cologne radio choir, and worked as a freelancer for most every German radio station, regularly and gladly coming back to Cologne, though. He made records, and he also sang a lot in concert halls with big symphony orchestras, as well as with amateur choirs all over Germany (the numerous amateur choirs were particularly in love with Leiseifer; after all, he was one of them). Even the opera theaters of Frankfurt and Dresden tried to hire him; but he refused, and never appeared on stage. As a concert singer, he was more than well-booked; he sang at least every Saturday and every Sunday, and his agenda was always full an entire year in advance. He also grew wealthy; for every concert, he got the same 300 Mark that he had earned per month as a chorister on the Cologne radio.
It was a short heyday. In WWII, he was drafted, and only sang in front concerts for the soldiers. After the war, he could not resume his radio career, but continued to sing in concerts for a few years, before he fell ill and had to retire.
Leiseifer's timbre may not be the most beautiful, and his interpretations certainly suffer from his scarce musical education; but his top notes are impressive, and his renditions exude a joy of singing that is definitely infectious.
Reference: 1980s Westdeutscher Rundfunk Köln radio feature on Leiseifer
Picture source