Raoul Walter
16 August 1865 Vienna – 21 August 1917 Munich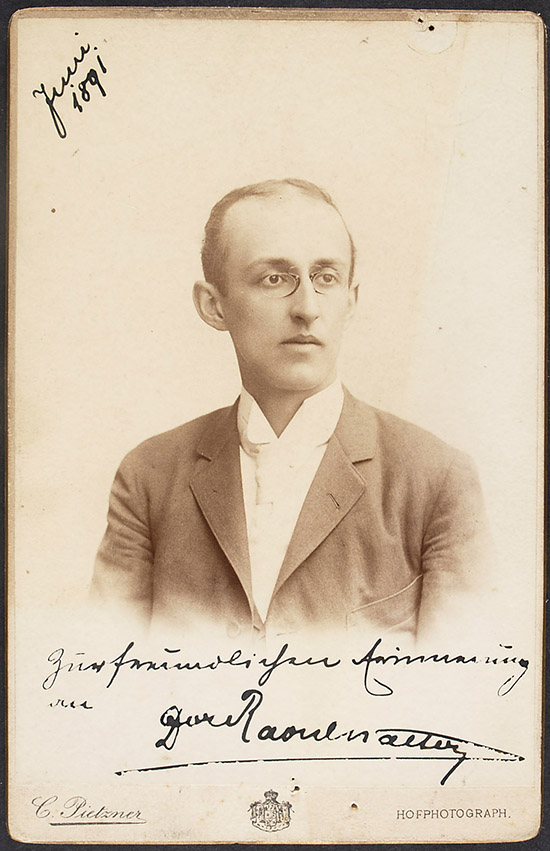 He was the son of Gustav Walter. Kind of a child prodigy at the piano, which he had studied at the Vienna conservatory at a very young age, he made a doctorate in law, and worked for the fiscal authority, but then he was discovered by the legendary Vienna operetta impresario Franz Jauner, and made his debut in 1888 at the Theater an der Wien. Only after that debut, he studied voice with his father. The following year, he sang opera in Brünn/Brno. In 1891, he was hired by the Munich Court Opera, where he was to stay until his death as the institute's first lyrical tenor.
He participated in several world premieres of operas by Ermanno Wolf-Ferrari (among others, I quattro rusteghi in 1906), Siegmund von Hausegger and Siegfried Wagner.
Guest appearances in Moscow, St. Petersburg, Riga, Vienna, Frankfurt, Karlsruhe, Zürich. His repertory grew from lyrical roles like Lyonel or David to Manrico, Alvaro, Arnold, Raoul, Lohengrin, Stolzing and Loge.
His records are of utmost rarity.
Reference 1: Kutsch & Riemens, reference 2: Einhard Luther, So viel der Helden. Biographie eines Stimmfaches, Teil 3: Wagnertenöre der Kaiserzeit (1871–1918), Berlin 2006
Picture source: Theatermuseum Wien
Discography

Grammophon, München, May 1905
3099L Il trovatore: Einsam steh' ich			  3-42228
3100L Il trovatore: Lodern zum Himmel			  3-42229
3101L Der Barbier von Bagdad: Vor deinem Fenster          3-42230
3102L Das Zauberlied (Meyer-Helmund)                      3-42231
3103L Martha: Ach so fromm				  3-42236

Grammophon, München, June 1907
3193r Così fan tutte: Der Odem der Liebe                  3-42856
3194r Mignon: Wie ihre Unschuld auch		          3-42855
217s  Die Zauberflöte: Dies Bildnis ist bezaubernd schön  042140
218s  La Juive: Recha, als Gott dich einst		  042141
Source: Gesellschaft für historische Tonträger, Wien