Roberto Saccà
born 12 September 1961 Sendenhorst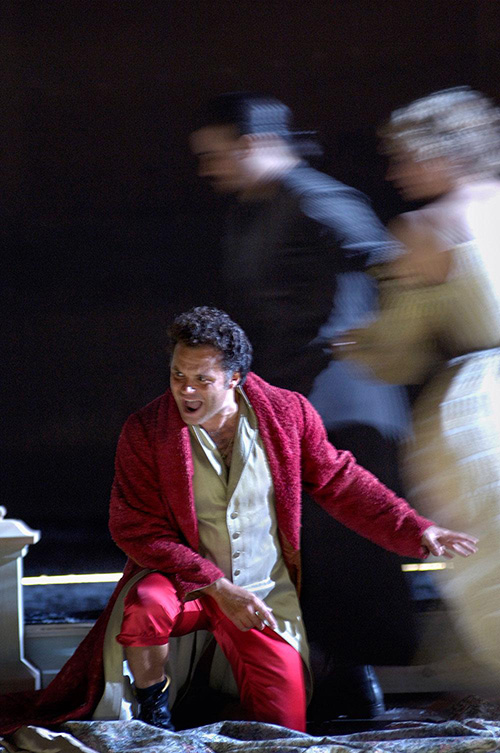 Saccà as Lucio Silla, Salzburg 2006
The son of Italian immigrants into Germany, Saccà grew up in Stuttgart, where he sang in a boys' choir. He studied voice there and in Karlsruhe. Still a student, he began to sing in concert and on stage in 1985; in 1987, he toured Brazil and sang opera in Rio de Janeiro. Back home in Germany, he had contracts in Würzburg and Wiesbaden, while making many international guest appearances: Teatro Lirico Milano, Teatro Filarmonico Verona, Staatsoper Berlin, Vienna Volksoper, Théâtre de la Monnaie Brussels, Salzburg Festival. 1995–2003, he was a member of the Zürich opera, making many appearances elsewhere (both during and after his Zürich period): Vienna Staatsoper, Covent Garden, Hamburg, Deutsche Oper Berlin, Cologne, Geneva, Glyndebourne Festival...
Primarily a Mozart specialist (Don Ottavio, Belmonte, Ferrando, Lucio Silla), he sang also roles like Almaviva, Nemorino, Duca, Alfredo, plus a lot of contemporary music – and on the concert podium, oratorios from Monteverdi to Britten. After 2012, he added surprisingly heavy roles to his repertory: Stolzing, Kaiser, Bacchus (!), Lohengrin, Loge (Bayreuth 2016 and 2017), Éléazar (!), Otello (!).
In RA format
Reference 1: Kutsch & Riemens; reference 2 and picture source: Saccà's website
I wish to thank Helmut Krautschneider for the recording.