Marcel Wittrisch
1 October 1901 Antwerp – 3 June 1955 Stuttgart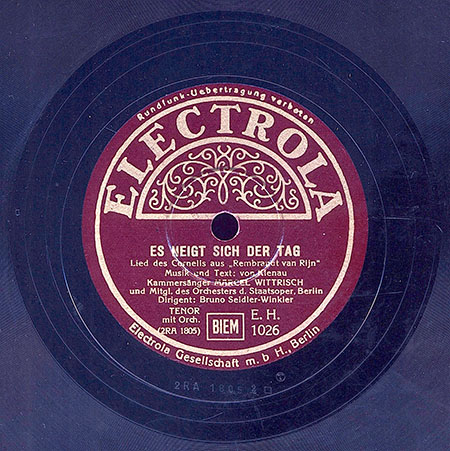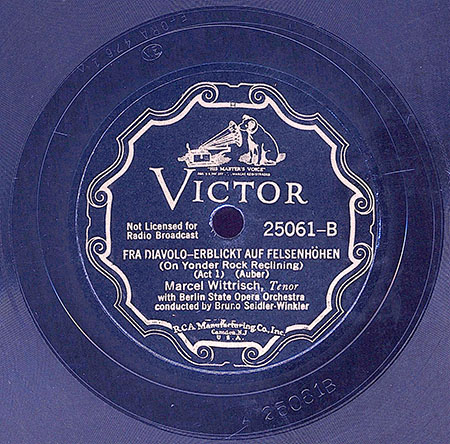 In RA format
Nobody ever sang mezza voce as perfectly as Wittrisch; few singers were able to color every note as beautifully as he did; and he had a remarkable top. But he learned all that on the job; in his earliest recordings, the voice didn't come forward, was relatively dull, and the top was nothing to write home about. So he acquired the qualities that made him stand out only when he had already been singing for a few years; and on bad days, he fell back into his earlier habits, that's why some of the recordings also from his heyday are surprisingly disappointing (the above Di quella pira is an example). But on his good days, he had certainly little competition.
His family lived in Belgium, where his father was a fur merchant; after WWI, they had to leave the country and settled in Leipzig. Marcel Wittrisch studied in Leipzig, Munich (with Jacques Stückgold) and Milano, and made his debut as Konrad in Marschner's Hans Heiling in 1925 in Halle an der Saale. Via Braunschweig (1926–29), he came to the Staatsoper Berlin, where he had his period of glory until 1944. He was a guest at Covent Garden (1931), La Scala, the Vienna Staatsoper, Teatro Colón, Théâtre de la Monnaie, in Amsterdam, Munich, Rio de Janeiro and Bayreuth (Lohengrin 1937). In Berlin, he was also extremely popular on the radio.
He continued his career after WWII, but it was not quite the same; the good times were over for him. I'm sure that was for psychological reasons; he had been one of the most zealous operatic supporters of the Nazi regime (resounding evidence can be heard above, one of the most embarassing Nazi propaganda songs ever – the Hitler Hymn by Leopold von Schenkendorf: "May God be with our Führer, may God bless his hand"). In the first years after 1945, he sang primarily in concert and in operetta. From 1949 to his death, he was a member of the Stuttgart opera; in 1951, he sang at the Paris Opéra, and he also returned to Vienna (1950–52).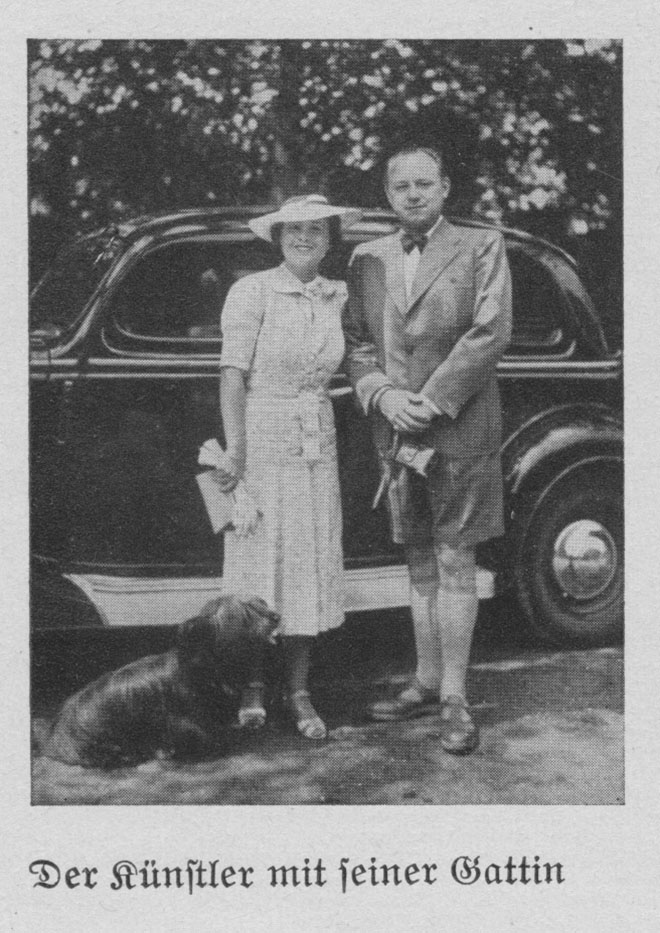 Wittrisch in Nazi attire (shorts and white knee socks, a political confession in fashion), with his wife;
from Harry E. Weinschenk, Künstler plaudern, Berlin 1938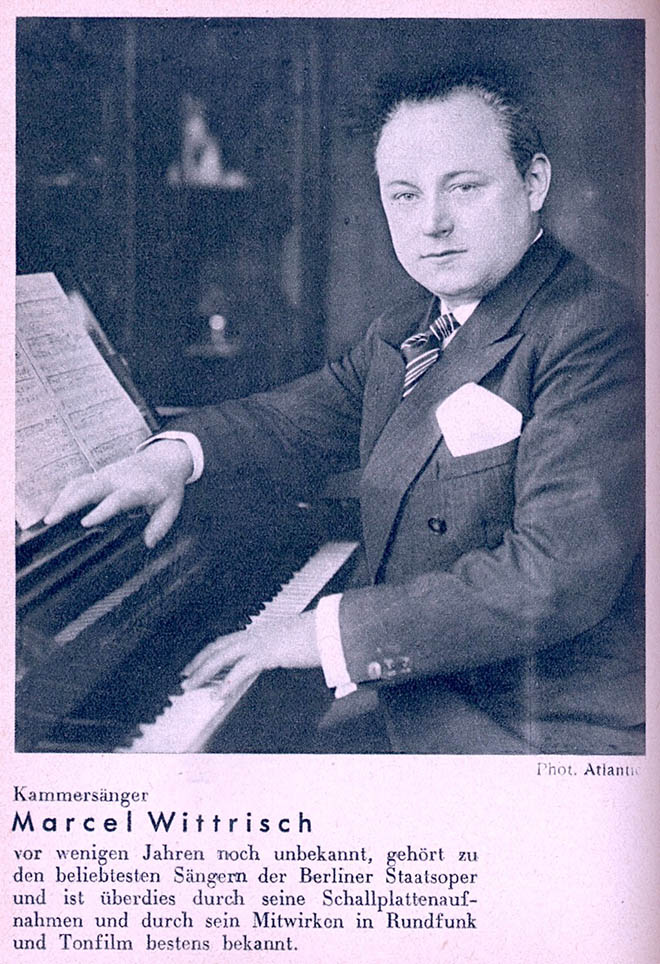 from: Künstler am Rundfunk. Ein Taschenalbum der Zeitschrift Der deutsche Rundfunk, Berlin 1932




Repertory


The first list gives Wittrisch's Staatsoper Berlin repertory, with the date of the first performance. An asterisk indicates that he had already sung the role before coming to Berlin:

Die schöne Galathée – 1930
Il re (by Giordano) – 27 January 1930
Le preziose ridicole (by Lattuada) – 27 January 1930
Spiel oder Ernst (by Reznicek) – 12 January 1931
La vedova scaltra (by Wolf-Ferrari) – 20 January 1931
Manon Lescaut – 13 April 1931
Der Pfeifertag (by Schillings) – 12 September 1931
Wiener Blut – 4 February 1932
Les huguenots – 26 February 1932
*La bohème – 17 June 1932
Der Liebesverbot – 20 January 1933
*Die Zauberflöte – 3 March 1933
Eine Nacht in Venedig – 13 March 1933
Les vêpres siciliennes – 26 March 1933
*Lohengrin – 22 May 1933
Carmen – 20 September 1933
Arabella – 12 October 1933
Der Kreidekreis (by Zemlinsky) – 23 January 1934
Donna Diana – 17 February 1934
Der Freischütz – 20 March 1934
Cavalleria rusticana – 13 April 1934
Der Rosenkavalier – 5 May 1934
Intermezzo – 31 May 1934
Ariadne auf Naxos – 3 June 1934
Les pêcheurs de perles – 21 June 1934
Ernani – 12 December 1934
Der Wildschütz – 23 May 1935
*Martha – 1935
Madama Butterfly – 6 November 1935
Turandot – 8 December 1935
La traviata – 1935
La forza del destino – 1935
La fiamma (by Respighi) – 1936
*Der fliegende Holländer (Steuermann) – 8 October 1936
Halka – 15 November 1936
Rembrandt von Rijn (by Klenau) – 23 January 1937 (world premiere)
Prodaná nevěsta (Jeník)- 16 March 1937
Mignon – 16 October 1937
Die Bürger von Calais (by Wagner-Régeny) – 28 January 1938 (world premiere)
Palestrina – 22 April 1939
La dama boba (by Wolf-Ferrari) – 22 June 1939
Tosca – 3 October 1939
Mona Lisa – 3 November 1939
Rigoletto – 18 January 1940
Elektra – 18 February 1940
Ero s onoga svijeta – 29 March 1940

The second list gives those of Wittrisch's role debuts that he did not make at the Berlin Staatsoper:
Hans Heiling – Halle an der Saale, 1 January 1925
Lohengrin – Halle an der Saale, 1925/26
Martha – Braunschweig, 1926–29
Der fliegende Holländer (Steuermann) – Braunschweig, 1926–29
La bohème – Braunschweig, 1926–29
Die Zauberflöte – Braunschweig, 1926–29
Její pastorkyňa/Jenůfa – Braunschweig, 1926–29
Le cadi dupé (by Gluck) – Braunschweig, 1926–29
Paganini – Braunschweig, 1926–29
Der Bettelstudent – Braunschweig, 1926–29
Die Fledermaus (Eisenstein) – London, Covent Garden, May 1931
Die Walküre – Stuttgart, 1949–1955
Parsifal – Stuttgart, 1949–1955
Iphigénie en Tauride – Stuttgart, 1949–1955
Salome (Narraboth) – Paris, Opéra, 1951
Der Zigeunerbaron – Staatsoper Wien, 1951

Reference: The Record Collector, October–December 1995
Reference: Stimmen die um die Welt gingen, no. 30/December 1990
I would like to thank Daniele Godor for the recording (Gott sei mit unserm Führer).
I would like to thank Thomas Silverbörg for the recordings (Pour un baiser, Evangelimann) and the picture (bottom).
Reference for some of the biographical information: Kutsch & Riemens

Many thanks to Anton Bieber for the Künstler am Rundfunk and Künstler plaudern scans, as well as for the Rembrandt van Rijn and Fra Diavolo recordings plus label pictures.