Bryan Hymel
born 8 August 1979 New Orleans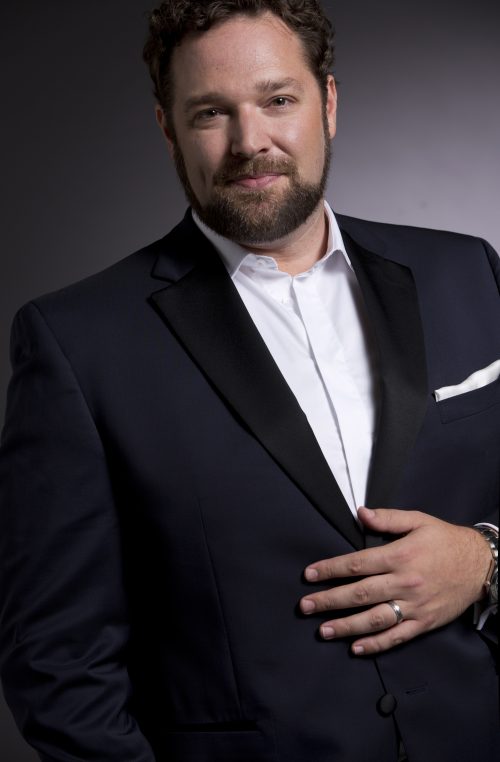 In 2013, I wrote about Hymel on this website:

His career began as early as 1998, but picked up steam very slowly (which is not a bad sign), until big success came in 2008 and 2009.

Meanwhile, he even sang Enée (Covent Garden & Met), and not bad! Of course, his technique needs improvement (his top notes, for instance, are too open), and one thing I'm not sure about is the size of his voice... so I'm very curious to hear him on stage (next season, he's going to debut in Vienna in Madama Butterfly).

Still, he seems like a rather large figure in our operatic dwarf era.

Well, I was wrong about that. His Pinkerton turned out to be very unremarkable, the voice was too small for the Vienna Staatsoper, and a bit stiff to boot. When he came back five years later, in 2019, to sing Rodolfo, the voice was already ruined, and he was unpleasant to listen to. What a pity. And in fact, it was just (good?) luck that I got to hear him at all in 2019, because already since 2018, it seems over for Hymel: he cancelled most every of the (few) performances he had been scheduled for anywhere on this planet, his website is offline, he doesn't post any longer on Facebook... In 2022, he became a voice instructor at a music college in Princeton, New Jersey.
Side note: the Covent Garden Robert le diable production (broadcast by the BBC) was originally meant to "star" – Juan Diego Flórez, of all singers! As Robert, not in the tenor buffo part of Raimbaut! Fortunately, Flórez withdrew in time; certainly Escalaïs must have raised from his tomb and threatened him so as to achieve that.

Seiffert as Otello and Tristan, Flórez by a hair's breadth as Robert, Dimitra Theodossiou as Abigaille (a performance that I suffered a few years ago)... next, we're going to get Helmut Lotti as Manrico and Tom Waits as Osmin.