Philip Langridge
16 December 1939 Hawkhurst – 5 March 2010 Guildford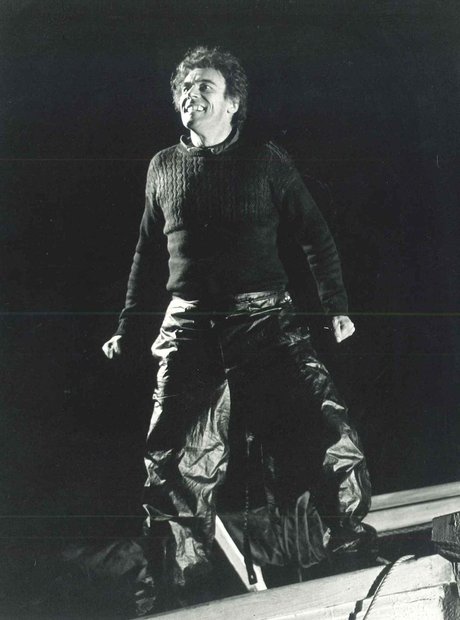 Langridge as Peter Grimes
| | |
| --- | --- |
| Philip Langridge sings | Boris Godunov: Velikij gosudar, with Nicolai Ghiaurov |
At the Royal Academy of Music, he studied violin, and was an orchestra violinist until 1964; from 1962, he took also voice lessons "just for fun". The fun turned serious, and he was hired as a chorister in Glyndebourne in 1964, also taking on tiny solo parts. He was still not sure whether to become a professional singer, and dedicated much time to teaching voice instead, before deciding, after many years, to be a full-fleshed singer; that's why his career was slow in picking up steam.
In 1979, he made his debut with the Welsh National Opera, in 1983 with Covent Garden, which would be the center of his career (together with Glyndebourne). From 1987 to 1998, he regularly appeared at the Salzburg Festival. Further guest appearances at the English National Opera, La Scala, the Met (where he sang the last performance of his life as the Witch in Hänsel und Gretel in January 2010), the Théâtre du Châtelet, in Chicago, Munich, Cologne, Zürich.
He was generally considered the successor of Peter Pears, and actually, both singers are distinguished by a vocality that is certainly an acquired taste. Langridge sang most everything from Baroque to contemporary opera, specializing in Mozart (Ferrando, Tito, Idomeneo, Don Basilio, Don Ottavio), Janáček and Britten, but he sang Shujskij, Loge, Florestan, Aron, Oedipus rex or Nerone in L'incoronazione di Poppea, as well. He did also a lot of lieder work.
Reference 1: Opera News, 8 March 2010; reference 2: Bach Cantatas; reference 3: The Guardian, 7 March 2010; reference 4: Kutsch & Riemens
Picture source