Justin Lavender
born 4 June 1951 Bedford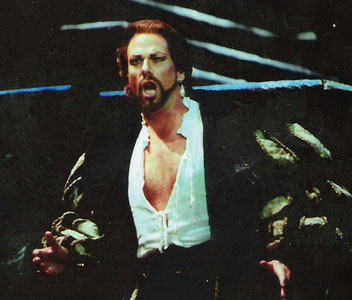 Lavender as Duca di Mantova
His original plan was to become a nuclear engineer, but Benjamin Britten and Peter Pears convinced him to have his voice trained instead. He began to sing in concert and with minor British opera companies (opera debut: Erster Geharnischter in Zauberflöte, 1976 for the English Music Theatre Company, i.e. the former English Opera Group founded by Britten). His international debut came in 1980 in Sydney as Nadir. In 1981, he joined Opera Leeds. He made guest appearances around the UK (frequently in Glasgow), and internationally in Melbourne, Karlsruhe (Semele, 1984), Geneva (Il ritorno di Casanova by Girolamo Arrigo, world premiere, 1985), Rome (Don Ottavio, 1985), Madrid, Dublin.
In 1990, he was to sing Ruodi at Covent Garden, but when Chris Merritt dropped out of the production, Lavender took over the role of Arnold at short terms. You can hear the result above: although the end of the cabaletta overstrains him, this is clearly more than you could expect from a Ruodi, and the cavatina boasts seriously good singing.
In 1991, he made debuts at La Scala (as Comte Ory) and the Paris Opéra (as Fernand). He sang in Mannheim, Essen, Leipzig, Köln, Pittsburgh, Miami, Helsinki, Auckland, at the Vienna Staatsoper (Belmonte, 1992), or at the festivals in Spoleto, Edinburgh and Drottningholm. In the aughts, conducting and teaching gradually prevailed over singing in his schedule.
He had a very wide-ranging repertory from Renaissance to contemporary music; he was considered a specialist for belcanto opera, although I find him unsatisfactorily dry when singing Italian. In my opinion, his forte was French opera, not least because his French diction was incomparably superior to his Italian, but above all in terms of musical style.
Reference 1: Kutsch & Riemens; reference 2 and picture source: Lavender's website; reference 3
Many thanks to Jiyu Chen for drawing my attention towards Lavender.