George Lloyd-Chandos
6 September 1862 London – 9 August 1950 Bexhill-on-Sea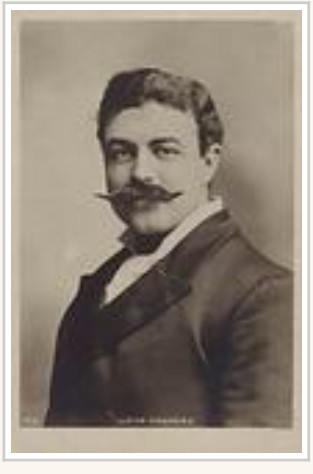 Born William Francis Lloyd, he started singing as a tenor in 1882 in the choir of St. George's Church in London-Kensington, and became a soloist at the parish church of St. Marylebone in 1890.
He made a career in England, sometimes in opera at Drury Lane, but mostly as a well-known concert singer specializing in oratorio. Until 1895, he used the name Francis Lloyd, then he chose "George Lloyd-Chandos" as his artist's name. In April 1896, he sang Messiah at the Royal Albert Hall with Clara Butt, Charles Santley and Esther Palliser. On November 16th, 1898 in Sunderland, he sang in what was supposed to be the world premiere of Hiawatha's wedding feast (in fact, as it turned out, it was the second performance since in the rather chaotic publication process of that work, a hastily organized and ill-prepared performance already took place on November 11th in London).
Lloyd-Chandos seems to have retired towards the end of the 1920s.
Reference 1 and picture source, reference 2
I wish to thank Anton Bieber for the recordings and label scans.