Frank Lopardo
born 23 December 1957 Brentwood (New York)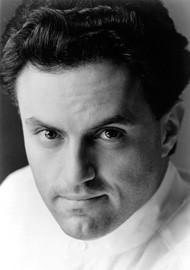 In RA format
In RA format
After vocal studies in New York City, he made his debut as Tamino in St. Louis (1984). In 1985, he was in Dallas, at the Teatro San Carlo in Naples, and the Aix-en-Provence Festival; 1986: Amsterdam, 1987: Glyndebourne, Vienna Staatsoper, La Scala and Monte Carlo, 1988: Geneva and Chicago, 1989: Covent Garden and the Metropolitan Opera, which would be the center of his career (183 performances through 2005). 1990: Salzburg Festival, 1991: Munich, Maggio musicale and San Francisco, 1994: Köln, 1995: Opéra Bastille, 1999: Los Angeles.
Over the years, he acquired a thoroughly bad reputation by singing roles like Alfredo, Rodolfo, Edgardo or Duca, which were completely unsuited to both his voice and his musical temperament; but as long as he was a pure belcanto specialist, I enjoyed him much, particularly as Lindoro in L'italiana in Algeri, which was an excellent interpretation in every respect, even as far as stage acting, but above all as far as vocality and precise musicality.
After retiring, he embarked on a second career, not as a voice teacher like too many others, but – as a fine artist.
Reference: Kutsch & Riemens
Picture source
I would like to thank Thomas Silverbörg for the recordings.