Colin O'More
20 January 1890 Heber Springs (Arkansas) – 21 September 1956 Polk (Florida)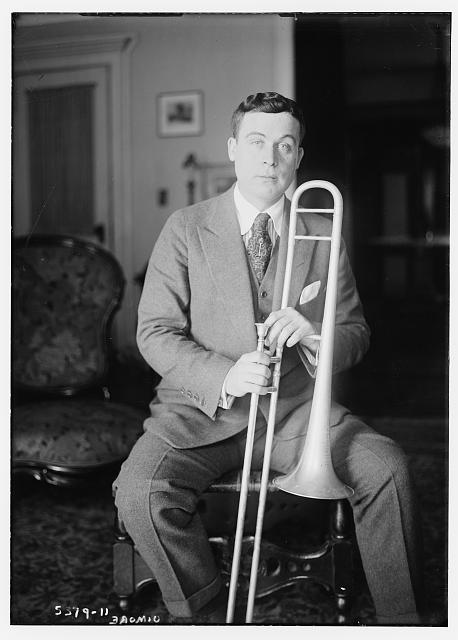 Born James Harrod Hornberger and of Irish ancestry, he started playing the piano at a local cinema at age 16, and soon also sang there, when live music was still a part of the cinema experience. Next, he joined an itinerant opera company that disbanded in Kentucky after the treasurer had stolen all the funds and disappeared. (Whether he ever sang the standard operatic repertory on stage again is doubtful.) In those early years, he used the name James Harrod for his appearances; only later, he chose "Colin O'More".
It wasn't until after his operatic adventure that he studied voice at the College of Music in Cincinnati; a wealthy patron heard him there, and sent him to Paris for four years for more substantial studies. In Paris, he developed into a specialist for French lieder. He then lived in Ireland for a while, appropriating also the Irish song repertory that was to become one of his fortes.
Back to the US, he made an unusual career: on the one hand, he was a concert tenor in New York City, specializing in contemporary and even avantgarde music; he sang regularly at Aeolian Hall, at Town Hall in the concerts organized by the League of Composers, and at Carnegie Hall (March 1923, or the opening concert of the fall 1924 season on 5 October). For instance, he performed Tres exágonos by Carlos Chávez on 8 February 1925 at Aeolian Hall for the International Composers' Guild, Daniel Jazz by Charles T. Griffes on 22 February 1925 at Times Square Theatre, Stravinsky's Les noces at Aeolian Hall, again for the International Composers' Guild, on 14 February 1926, with Mme. Charles Cahier, Richard Hale, Marguerite Ringo, with Alfedo Casella, Georges Enescu, Carlos Salzedo and Germaine Tailleferre at the pianos, and under the baton of no less than Leopold Stokowski; at a League of Composers concert at Town Hall on 14 March 1926, he appeared in the world premiere of Emerson Whithorne's Saturday's child (with Mina Hager), and in April 1935, he was Socrate and Phédon in Eric Satie's Socrate at the Hartford Festival (with Eva Gauthier).
On the other, totally unrelated hand, O'More was a popular performer of Irish songs on record and above all on the early radio; he was the star of the Philco Radio Hour in the late 1920s, which was broadcast all over the US.
In 1944, he gave up his career and moved to Florida, where he became a professor of music at Florida Southern College.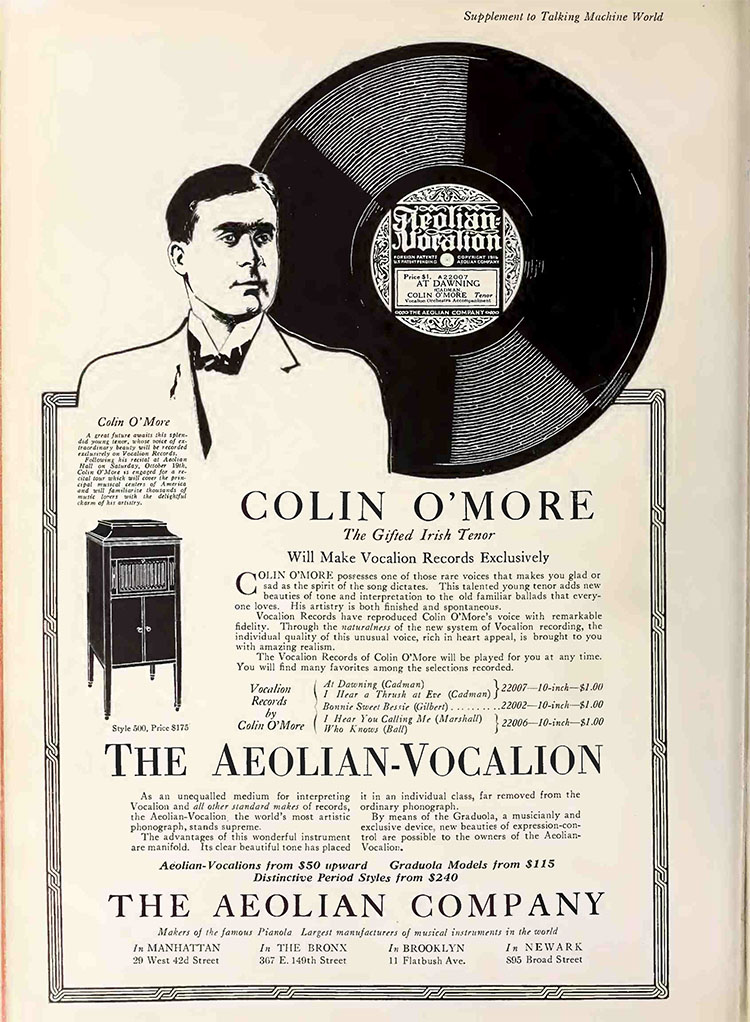 Reference 1; reference 2: Kutsch & Riemens (a largely nonsensical entry under "Harrod, James"); reference 3: Indianapolis Times, 2 September 1929; reference 4: The Billboard, 11 October 1924; reference 5: Carol J. Oja, Making music modern: New York in the 1920s, Oxford 2000; reference 6; reference 7; reference 8: Nadia Turbide, Éva Gauthier (1885–1958) : première cantatrice canadienne-française d'avant-garde, in: Les cahiers de l'association pour l'avancement de la recherche en musique au Québec, no. 7 (2017); reference 9: Carteret Press, 12 October 1928
Picture source 1 (portrait), picture source 2 (Aeolian Vocalion ad)
I wish to thank Anton Bieber for the recordings and label scans.