Roger Yacazzi
6 October 1910 Paris – 13 June 1994 Paris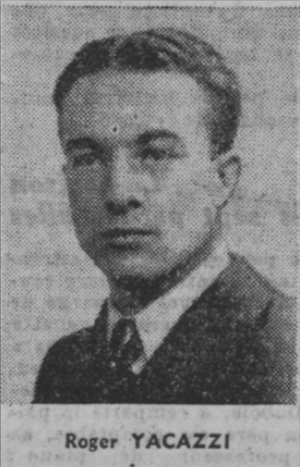 He was a carpenter before studying voice, and in 1940 became a prisoner of war. Whether or not this incited his idea of changing profession and becoming a singer, I have no idea. It wouldn't seem that he had a long career, and I wonder whether he returned to his old job.

Opéra

He made his debut on November 11th, 1946 in Rigoletto.

Opéra-Comique

He made his debut on March 8th, 1947 in Tosca. He also sang Cavalleria rusticana, Madama Butterfly, Manon and La bohème.
In 1942, John O'Sullivan (as Jean Sullivan) took part as a member of the jury in the final of the tenors competition that took place at the Opéra on February 17th and was organized by Comoedia and La Voix de son Maitre.
The jury was composed, besides him, of Jane Bourguignon, Claire Croiza, Germaine Lubin, Magne, Germaine Martinelli, Alfred Bachelet, Jean Berard, Pierre Bernac, Louis Beydts, Jen Bourdon, Roger Bourdin, F. Bousquet, René Chauvet, René Delange, Delvincourt, Fernand Francell, Paul Franz, Fribourt, Paul Gregorio, Arthur Honegger, Georges Jouatte, Ayme Kunc, Lafollye, de Laromiguiere, Dr. Le Mee, Georges Linor, Mauret-Lafage, Mitzakis, Lucien Muratore, Jean Perier, Georges Pioch (secretary), Janusz Poplawski, Proton de la Chapelle, Paul Razavet, Georges Ricou, François Ruhlmann, Thomas-Salignac, Georges Thill, Roger Thirel, Thomas-Salignac, Vanni-Marcoux, Georges Viseur, Emile Vuillermoz and Dr. Wicart.

The winners in order were Nicolas Mégret (Aïda), Brégerie (Guillaume Tell), and jointly in third place, René Rotteleur (Roméo et Juliette) and Michel Hamel (Mignon). Mégret had a great career and Hamel became a comprimario. As a bonus for winning the competition, Mégret made a record. (It has never been seen except by one collector at a flea market. As he did not know the name of the singer and as it was in any case a 78 of a singer not collected by him, he left it.)

Some tenors, who participated but did not get prizes, had, nevertheless, careers. They were: Roger Yacazzi, Raymond Amade, Guy Fouché and Jean Michel. Previous winners of that competition included Paul Franz, Giuseppe Lugo, Émile Marcelin, Robert Lassalle, Mario Cazenave, Georges Noré, Claude Fronval.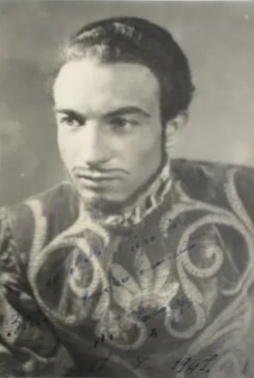 Biographical reference and source for top picture