Augusto Balboni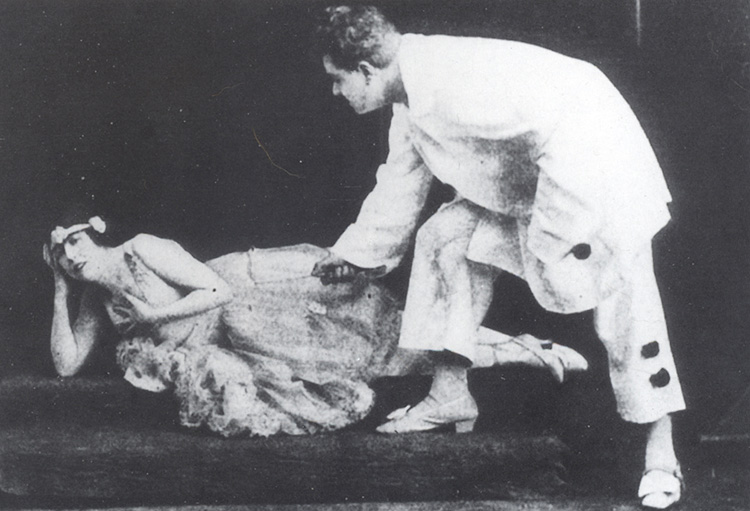 with Nellie Leach in Pagliacci
Augusto Balboni was one of the creators of Le maschere. Not much is known about him. The following was found by Juan Dzazópulos in chronology books of several opera houses.
Balboni sang at the premiere of Mascagni's Le maschere  (17 January 1901) at the 
Teatro La Fenice (Venice) the comprimario role of Brighella. The first tenor role, Florindo, 
was sung by Elvino Ventura. Other members of the cast were soprano Maria Farnetti, baritone 
Giovanni Bellucci and bass Nestore Della Torre.

In October 1906, Balboni sang in Łódż (Poland), Theatre Apollo, Pagliacci 
with Eulalia Santamarina, Enrico Pignataro and Paolo Filippini.

From November 1906  to July 1907, Balboni sang extensively in the Russian Empire, in 
Białystok, Minsk, Kursk, Kharkiv, Tashkent. 

In February 1908, again Pagliacci in Łódż, now with Lina Cavalieri, 
Iago Belloni and Vittorio Alfieri.

Balboni was in Italy in October 1908 singing at the Teatro Sociale in Gualtieri, 
Carmen, with Giuseppina Bonetti, Egidia Pizzioli and Sante Canali.

Early in 1909,  Balboni was engaged for a South American tour with the Andrea 
Schiaffino Opera Company:
Buenos Aires (Argentina) – Teatro Politeama
La traviata: Juanita Capella, Enrico De Franceschi (April)
Porto Alegre (Brazil) – Teatro São Pedro
Pagliacci: Malvina Pereira, Enrico De Franceschi (6 May)
La traviata: Malvina Pereira, Enrico De Franceschi  (9 May)
Later, performances in Pelotas and Rio Grande (Brazil) (June/July)
Rosario (Argentina) – Teatro Nuevo Politeama
Season from July 27 to 30
Rosario – Teatro Opera
Season from August 2 to 5
Montevideo – Teatro Solís
Carmen: Elisa Marcomini, Malvina Pereira, Enrico De Franceschi  (26 August)
Faust: Juanita Capella, Enrico De Franceschi, Olindo Lombardi (28 August)
Il barbiere di Siviglia: Gabriela Bernard, De Franceschi, Lombardi (3 September)

Balboni must have returned to Europe in October 1909:
Parma – Teatro Reinach
La traviata: Eugenia Makaroff, Vittorio De Goetzen (November)
Note: Eugenia Makaroff later sang and recorded as Eugenia Bronskaja.

In November 1909, Balboni was back in Russia, singing Carmen in Kaunas at the 
Autumn Imperial Theatre and in December at the Winter Theatre in Poltava, Pagliacci 
with Giulietta Battaglioli and Iago Belloni.

During 1910,  Balboni seems to have been very busy in Russia, singing in Minsk, Kazan, 
Orenburg, Baku and other cities.

In December 1914, Balboni sang at the Teatro Comunale in Terni, Pagliacci with 
Gemma Bosini, Michele De Padova and Ermanno Benedetti.

From 1916 to 1919, his activities seem to have been centered in Australia: Melbourne Princess 
Theatre, Brisbane Royal Theatre, Wellington Grand Opera House, Adelaide Royal Theatre, Sydney 
Grand Opera House. His name appeared in Pagliacci, Carmen and Traviata, 
but certainly he must have sung several other roles.
I wish to thank Juan Dzazópulos for the chronology of known performances.
Picture source: Forgotten Opera Singers