Mario Roussel
Mario Roussel was the unfortunate singer who created Silvio in Pagliacci, and for years it was written that it was Ancona. People who think they know everything, such as Ward Marston absolutely swore it was Ancona, and when asked why he thought so because I had a review of the premiere in my hands, answered because Moran said so. It is somewhat similar to an answer given by the late Mike Richter to an opera expert AfroPoli regarding Olivero having sung in Cavalleria rusticana: Olivero did not sing in Cavalleria rusticana because I say so, in spite of an existing picture supporting Olivero having sung Santuzza.

When researching Cardinali in the 1901 Rivista teatrale melodrammatica, I came twice upon a tenor Mario Roussel having sung succesfully Otello. I wondered if it was the same person. Actually, it was, as the Rivista teatrale melodrammatica commented that Roussel succesfully changed from baritone to tenor.

However, he returned later to sing baritone roles.
Milano, Dal Verme, Pagliacci, on 21 May 1892 with Giraud, Stehle, Maurel, Daddi, Toscanini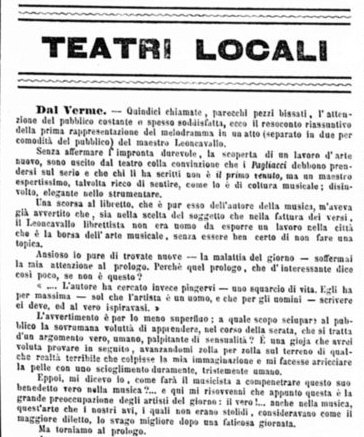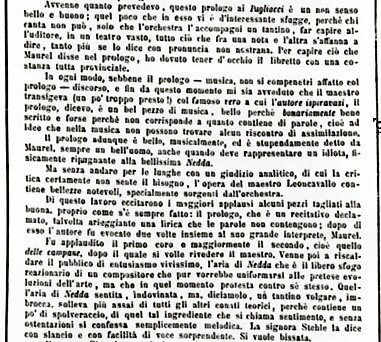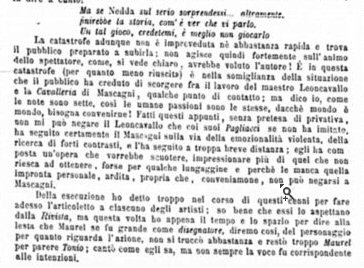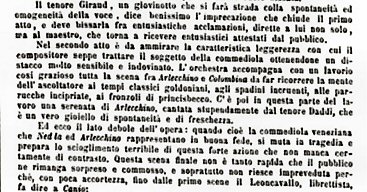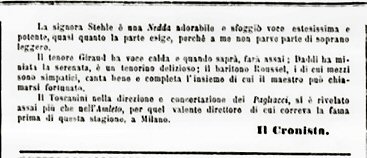 Adelaide, Royal, Pagliacci on 2 October 1893, with Guglielmo Caruson, Italia Del Torre, Ciro Frasca, Fiorello Giraud, Lovell Philips
Roma, Costanzi, Lucia di Lammermoor on 23/24/27 April - 4 May 1898, with A. Padovani, Granados, Spangher, Trucchi-Dorini, F. Casali, Filippini, De Angelis
Roma, Costanzi, Gli ugonotti on 7/8/0/12/14/18/21/26/29/30 May 1898, with A. Padovani, Galli, M. Borelli-Angelini, Angioletti, Sabellico, A. Degli Abbati, Mingardi
Roma, Costanzi, La traviata on 17/20/22/25/28/31 May 1898, with G. Bellincioni, G. Donati, Mieli, Trucchi-Dorini, Parasassi, Pro, Gironi, Casali, Mingardi
Napoli, San Carlo, La bohème from 12 December 1898 (sharing with E. Sottolana), with A.Pandolfini/A. Karola/L. Monuschi, M. Passari, F. De Lucia/E. Gorga/L. Rosati, M. Rossini, L. Cromberg, E. Vitale/C. Scognamiglio (total 31)
Novara, Coccia, Otello on 24 February 1901
Foggia, Dauno, Otello from 2 June 1901 (sharing with Galli), with Emilia Corsi, Emanuele Bucalo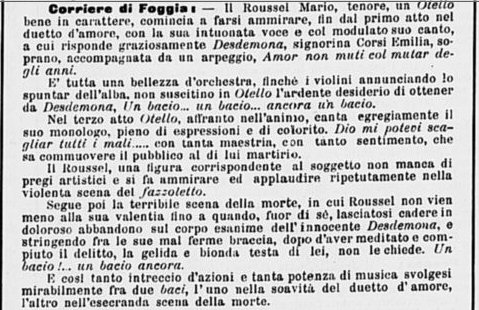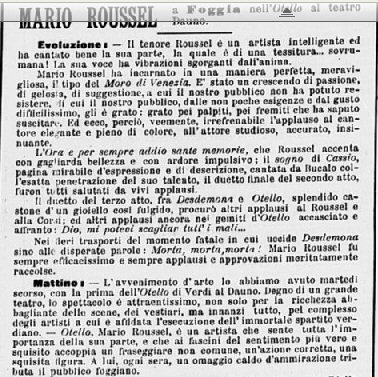 Rivista teatrale melodrammatica, 8 July 1901

Rivista teatrale melodrammatica, 18 November 1901
Roma, Adriano, Samson et Dalila on 4/8 November 1901, with Guerrini, Brombara, Cocchi, Girone, Agide Jacchia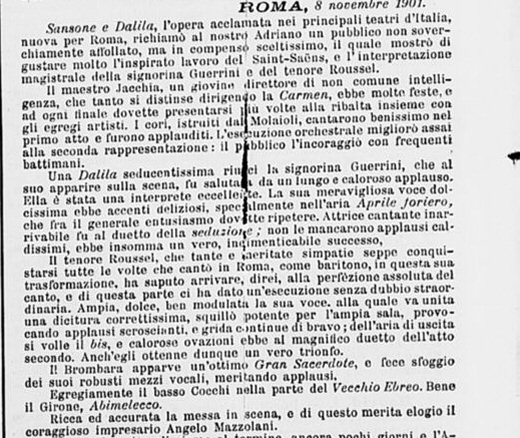 Rivista teatrale melodrammatica, 11 November 1901



Milano, Scala, Die Walküre from 26 December 1901, with Fausta Labia, Lavin, Magini-Coletti, Nicolay, Pinto, A. Toscanini (total 8)


Rivista teatrale melodrammatica, 28 December 1901



Parma, Regio, Severo Torelli (nuova per Parma by Salvatore Auteri Manzocchi) as Barnabò Spinola on 31 May - 1/3/6/9 June 1903, with Vincenzo Bieletto (Severo Torelli), Elena De Cisneros (Madonna Pia Torelli), Vincenzo Montanari (Renzo Riccardi), Celestino Baldi (Ercole Balbo), Michele Bonanno (Lippo Malatesta), Paolina Zweifel (Dino), Onoria Popovici (Bice), Italo Picchi (Fra Paolo), Merardo Medosi (Bargello), Rina Dionisi (Caterina and Clotilde), Enrichetta Marchesini (Paggio), Giuseppe Baroni
Milano, Lirico, La bohème (as Marcello) on 1/3/6/8/12/16/26/31 January - 2/5/10/15/19/21 February 1904, with Giorgina Caprile, Alalia Campagnola, Ferdinando De Neri/De Giorgi(6 January)/Giuseppe Godono (2 February), Tullio Serafin
Milano, Lirico, La traviata (as Germont) on 21/23/24/27/30 January - 2/9/14/18 February 1904, with Giorgina Caprile, Angelo Tomisani/Giuseppe Godono (2 February), Tullio Serafin
Parma, Reinach, Ernani (as Carlo) from 31 October 1908, with Alfredo Cecchi, Salvatore Di Giulio, Oliva Petrella, Nella Costa, Napoleone Michelotti, Arturo Montanari, Giovanni Gonzales (total 7)
Montevideo, Solis, Gli ugonotti (as Nevers) on 11/21 November 1905, with Seinescu, Perico, Barbieri, Berti-Cecchini, Spangher, Francesco Codivilla
Montevideo, Solis, Un ballo in maschera (as Renato) on 12/26 November 1905, with Barbieri, Perico, Berti-Cecchini, Seinescu, Spangher, Sesona, Francesco Codivilla
Montevideo, Solis, La bohème (as Marcello) on 14 November 1905, with Gobatto, Gubellini, Severini, Francesco Codivilla
Montevideo, Solis, Il trovatore (as Luna) on 18 November 1905, with Barbieri, Perico, Berti-Cecchini, Spangher, Francesco Codivilla
Montevideo, Solis, Pagliacci (as Tonio) on 19/25 November 1905, with Gobatto, Perico, Pulcini, Rossini, Francesco Codivilla
Montevideo, Solis, Aida (as Amonasro) on 23 November 1905, with Barbieri, Perico, Berti-Cecchini, Spangher, Sesona, Francesco Codivilla
Parma, Reinach, Un ballo in maschera, (as Renato) on 24 November 1908 with Alfredo Cecchi, Oliva Petrella, Anna Berti Cecchini, Lina Simeola, Dino Lusardi, Salvatore Di Giulio, Alceste Mori, Napoleone Michelotti, Arturo Montanari, Giovanni Gonzales (total 4)
Source: Rivista teatrale melodrammatica
Source: Vittorio Frajese: Dal Costanzi all'Opera, Edizioni Capitolium
Source: Giampiero Tintori Duecento anni di Teatro alla Scala, Grafica Gutenberg
Source: Carlo Marinelli Roscioni Il Teatro di San Carlo, la cronologia 1737-1987, Guida Editori
Source: Teatro Lirico 1896-1944, unpublished chronology
Source: Gaspare Nello Vetro Teatro Reinach, 1871-1944, Comune di Parma, Archivio Storico Teatro Regio
Source: Cronologia del Teatro Regio di Parma (1829-2001)
Source: Susana Salgado The Teatro Solís: 150 years of opera, concert and ballet in Montevideo
Source: AusStage