Moshe Preis
15 May 1914 Łódż – 18 April 1999 Baltimore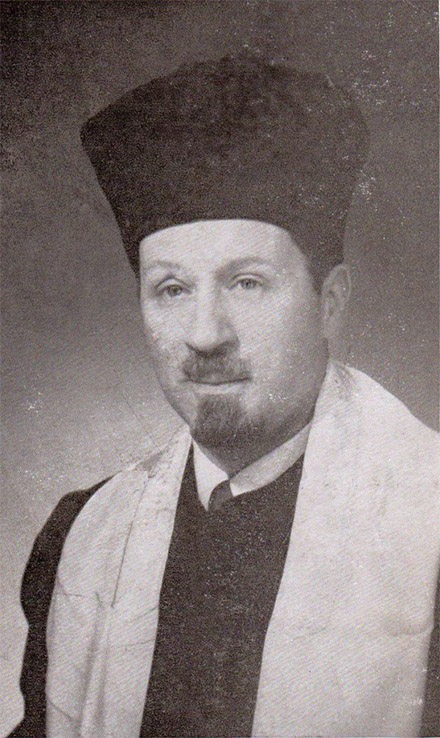 Chazzan Moshe Preis was born in Łódż, Poland on May 15th, 1914. His father, Shlomo Aryeh Preis, died when he was a small child. To make some money, he would sing in the courtyards of apartment blocks and people would throw down a few coins. This is how his potential as a chazzan was discovered. The news of this "wunderkind" travelled quickly, far and wide, since in 1933, at age 19, he was offered a position at the Kazinczy Street Shul in Budapest (the largest Orthodox shul in Budapest at that time).
In Budapest, young Moishele stayed at the home of Mr. Yitzchok Pollak, one of the leaders of the Jewish community there. Since the Kazinczy Street Shul was an Orthodox shul, the fact that Chazzan Preis wasn't married, was a bit of a problem. Chazzan Preis was told that he could not lead services for Rosh Hashono if he was not married. Mr. Pollak had a daughter called Raizele (Rosa) and he asked her to introduce the young chazzan to some of her friends, in order to find him a potential wife. Moshe told them it wasn't necessary, as he had already decided he liked Raizel and the two got married in the courtyard of the Kazinczy Street Shul in the summer of 1934. They lived on Wesselenyi utca, a block from the shul.
In 1938 Chazzan Preis travelled to Manchester, to officiate at the wedding of one of his congregant's children, who was to marry a British Jew. Upon hearing him sing, he was offered a position at the Central Synagogue. With the threat of WWII in his mind, Chazzan Preis was smart enough to accept the offer. So the Preis family (which was enriched with two sons in the meantime) left Budapest in 1939. The entire family in Poland was killed in the shoah. Chazzan Preis stayed at the Central Synagogue until 1951, when he accepted a position in the USA.
From 1951 to 1953, Chazzan Preis served at Congregation B'nai Yehuda in Brooklyn, after which he was hired by the Mosholu Jewish Center in the Bronx. He stayed there until 1968. In 1968 he was offered the position at Schara Tzedeck Synagogue in Vancouver. Chazzan Preis graced the pulpit there for over 20 years, after which he retired. After his retirement, he and his wife lived in Baltimore and Florida. Chazzan Preis died in Baltimore on April 18th, 1999, after a short sudden illness. He was just short of his 65th wedding anniversary. He was buried in New York.
Due to the fact that Chazzan Moshe Preis, a true legend amongst the chazzonim of yesteryear, was a very humble man, he never recorded professionally. Fortunately there are a few rare live recordings, which show his vocal artistry.
Many thanks to David Prager for the entire material on this page.