The Björling family business
Second row: Gösta, David and Jussi; front row: Karl and Olle
David Björling (16 November 1873 Strömsbruk – 13 August 1926 Västervik) was a blacksmith and a mechanic, who emigrated to the USA, where his voice was discovered. He had it trained and tried to build a tenor career. After returning to Sweden, he sang a few years in concert and in minor opera houses, but failed to get a foodhold in the business, so he gave up and worked as a voice teacher, establishing his own method. Above all, he concentrated on schooling his sons Olle, Jussi and Gösta for a career in music, already from a very early age; Olle could sing scales before he could intelligibly speak! Their Björlingkvartetten (Björling Quartett), where David sang together with the boys, gained a certain prominence in Sweden and the US.

David Björling was an alcoholic and a rather difficult personality, prone to totally un-Swedish bragging, and he was, gender notwithstanding, the model of a stage mother; but he was also an ingenious voice teacher, laying the foundations for the tenor careers of his three sons, and in particular for Jussi's absolutely extraordinary technique. The preparation they had got from their father was so good that the three boys could sing all the way through the period when their voices were breaking!! Unfortunately, David Björling never recorded, although the boys did already as small children.

Read up in great detail on David Björling's humble beginnings and his short tenor career in two articles by Harald Henrysson, the know-all, end-all of all things Björling; (© Jussi Björling Society):
The early life and vocal training of David Björling
David Björling's tenor career

Further reference 1, reference 2, reference 3: Juvas Marianne Liljas, David Björling som sångpedagog, Dalarna University 2005
In RA format
Olle, officially Olof Björling (2 May 1909 Stora Tuna – 12 April 1965 Stockholm), had a career as a concert tenor in Sweden. As a child, in the Björlingkvartetten, he and not Jussi had been the lead singer!
In RA format
The only baritone in the family, Karl (1911–75) never sang in public in adult age; as a child, only for a short time, in the Björling Quartet with his three tenor brothers, replacing their father David after his death.
Gösta, Karl & Olle Björling
| | |
| --- | --- |
| Gösta Björling (younger brother) sings | Addio (Tosti) |
In RA format
Gösta, officially Gustaf Björling (21 September 1912 Stora Tuna – 9 October 1957 Stockholm), started singing in public, with the Björlingkvartetten, when he was 3 years old. Later on, he studied first at the Stockholm conservatory as a baritone, then with Fernando Carpi in Milano, who made him a tenor. Upon return to Sweden in 1937, he first sang main roles in Göteborg (Marouf, Arrigo in the Swedisch premiere of Les vêpres siciliennes), but his voice did not quite carry over the orchestra, so he went back to Italy for further study. In 1940, he made his debut at the Royal Opera House Stockholm, where he would spend the rest of his career. He started as Rodolfo, Lyonel and Almaviva, but was then mostly used for character parts like Vašek, Borsa, Don Basilio, Pedrillo, Monostatos, Missail, Mime, David, the Four Servants or Ruiz. In 1949, he sang Don Ottavio, in 1952 Duca, and in 1954 Turiddu. He dropped dead while still quite young at the airport in Stockholm.

Reference 1: Harald Henrysson, Gösta Björling 1912–2012, Newsletter of the Jussi Björling Society, November 2012; reference 2: Kutsch & Riemens
Jussi and Lars Björling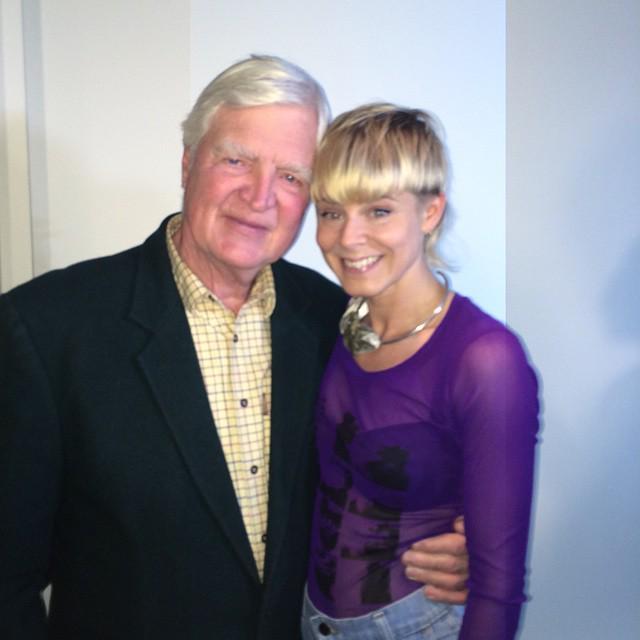 Lars Björling in advanced age with Swedish pop singer Robyn
In RA format
Lars Björling (born 1939), Jussi's youngest son, was a tenor's son rather than a tenor in his own right. This description seems perilous, and the typical result in such cases is fringe singing of the worst kind. Lars Björling's case is no exception, and yet at the same time it is one. Although he had apprehended the basics of vocal technique from his father and his uncle Olle, he didn't think of properly studying voice until quite late. He never appeared on stage, but since the late 1970s he gave some public concerts, often in the context of Jussi Björling commemorations; and he issued no less than eight CDs with his private recordings, the purpose of all that being defined by those CDs' title: "A tribute to David Björling". Lars had realized that the vocal school of his grandfather David (whom he had never met) was the foundation of the whole Björling success; and he wanted to hand down to future generations what he had learned about that vocal school: likeable and pretentious at once.

Many of his recordings are absolutely painful to listen to, and above all, he has no top at all and screams his way through the upper register. But, and here's what makes the difference from most other fringe tenors: Lars Björling's singing also proves that the David Björling school really works. Even a singer with no significant voice like Lars succeeds, based on that vocal school, to produce a pure and very beautiful tone as long as he doesn't try to sing beyond his vocal range (and that means, in Lars Björling's case, about one third in the middle register). A sound that actually reminds of the "real" Björlings, and not just because he is trying to imitate them, but because of the impostation even of a below-average voice like his.
Rolf Björling
| | |
| --- | --- |
| Rolf Björling (son) sings Madama Butterfly: | Addio, fiorito asil, in Swedish, with unknown baritone |
In RA format
In RA format
| | |
| --- | --- |
| Rolf Björling sings Requiem (Verdi): | Ingemisco |
In RA format
Rolf Björling (25 December 1928 Jönköping – 31 March 1993 Täby) was a son that Jussi had with an early love, before marrying the mother of Lars. He went into business first, but then studied voice in Stockholm (1953/54), and in San Francisco with Dimitrie Onofrei (1955–60). He made his concert debut in 1960 in Stockholm, and his operatic debut two years later at the Stora Teatern in Göteborg. After two year at the Deutsche Oper Berlin, he returned to Sweden and sang in Malmö, making guest appearances in Hamburg, Munich, San Francisco, Oslo, Helsinki, and at the Royal Opera House Stockholm, whose member he was from 1969 to 1985. From 1971, he also headed the successful Nya Björling Kvartet (with his wife, mezzosoprano Gunnel Eklund, with soprano Laila Andersson, later substituted by Kjerstin Dellert, and with basso Rolf Jupither). As a guest, he appeared at the Stockholm opera until 1992.

His most important roles were Manrico, Radames, Calaf, Cavaradossi, José and Florestan.

Reference 1, reference 2: Kutsch & Riemens
In RA format
Raymond Björling was born on 7 May 1956 in Chicago, while his father Rolf lived there for his vocal studies. After school, he tried several jobs from sick-nursing to the Swedish federation of employers, until his father finally talked him into studying voice.

It's funny that wherever Raymond Björling was announced or quoted, the epitheton ornans "opera singer" was like his second Christian name – although in fact, he almost never sang in opera. The only performance with him that I've been able to trace was Massenet's Don Quichotte in 1984, when he was still a student, with the semi-professional Stockholms Musikdramatiska Ensemble.

There may have some more operatic appearances, but primarily, he sang musical at the Oscarsteatern and the so-called Cirkus (a charming old multi-purpose event venue) in Stockholm, he sang on TV, he sang a lot of pop and rock (what he had really wanted, according to himself, was to become a pop singer), he sang at weddings and funerals... anything but opera. As far as classical music, he performed it regularly at the (astoundingly numerous) Jussi Björling memorial concerts that were also the realm of his uncle Lars. And he was positively horrible in classical music, though quite good at interpreting Elvis songs.

As time went by, he had to earn money as a printer, a cook, and eventually worked in a café in Uppsala. Of course, always with the term "operasångaren" glued to his name.

Reference 1; reference 2; reference 3: Upsala Nya Tidning, 28 April 2016; reference 4; reference 5 and picture source: Hallands Nyheter, 23 February 2011
Picture of Olle, Jussi, Gösta Björling
| | |
| --- | --- |
| Björling Trio (Olle, Jussi and Gösta as children) sings | Sommarglädje |
In RA format
| | |
| --- | --- |
| Björling Trio (Olle, Jussi and Gösta as adult men) sings | Sommarglädje |
In RA format
I wish to thank Thomas Silverbörg for the pictures and records.

Source for the picture of Lars Björling and Robyn: Twitter