Wäinö Sola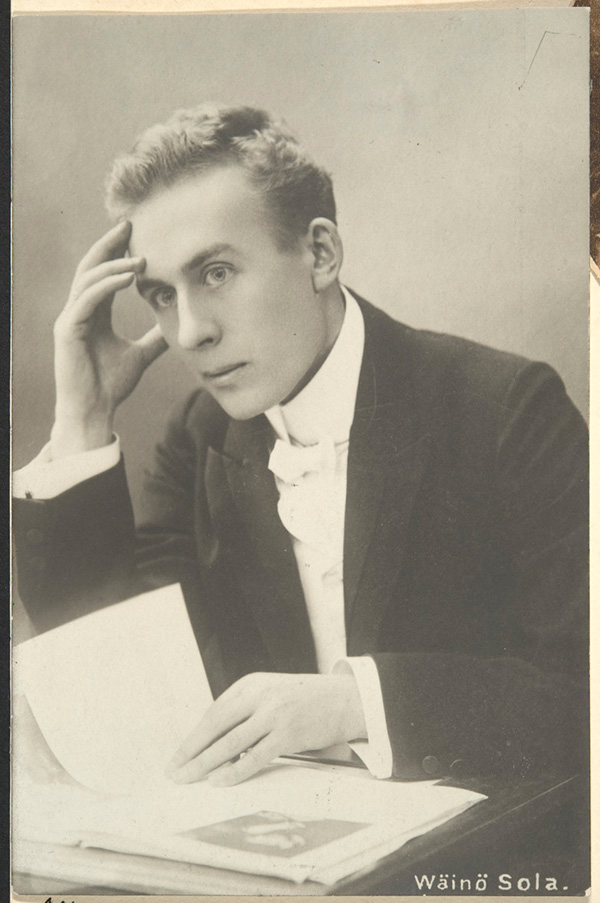 Wäinö Sola is a Finnish tenor who lived from January 8th, 1883 to October 12th, 1961. Sola was also one of the founders of Finnish opera. Sola had his first stage experience at he age of 15 in the choir and drama club of the Kilpi Temperance Society. Sola was soon invited to participate in other stage activities in a semi-professional activity capacity. In 1903, the author Jalmari Finne asked him to join a theatrical company he was founding in Viborg. This company presented plays, operettas and operas. After a near fiasco as Canio with John Forsell as Tonio, Sola decided he needed more training. Sola studied with Ettore Gandolfi in Berlin in 1908. Sola debuted in a concert in Helsinki on December 9th, 1908 with Oskar Merikanto at the piano. Sola continued his studies in Berlin (1909–10), Paris (1910) and Milano (1911). In 1911, Sola founded, together with Merikanto, Eino Rautavaara, and William Hammar, the first regular opera company in Finland. The opening night was on October 2nd, 1911 with Pagliacci and Cavalleria rusticana. Sola sang both tenor roles. In 1916, Sola spent time in prison for his role in the underground independence movement. The Russian revolution got him out of jail. From 1920, Sola held regular positions with the opera company both as tenor and stage director until his retirement in 1949. Sola appeared in more than 100 operas and operettas. Sola also continued his career as concert singer, promoting the songs of Merikanto, Kuula and Sibelius. Sola appeared in hundreds of recitals and made four tours of the United States. Sola started recording in 1909 with Pathé. In 1919, Sola recorded with the Gramophone Company. He made close to 100 sides with them. During his visits in the US, Sola recorded for Columbia and Victor. In 1944, Sola recorded for the last time for the Rytmi label. Sola recorded an aria from the opera Nummisuutarit by Emil Kauppi. The premiere of that work was a fiasco. Apparently, Kauppi disappeared forever as a result. He is thought to have drowned himself.

The Finnish Broadcasting Company published a CD (FUGA 9096) of Sola's recordings from 1909 to 1944. The CD contains 24 items. Three are operatic: Pagliacci (Vesti la giubba), Cavalleria rusticana (Viva il vino) and Esko's monologue from the ill-fated Nummisuutarit. The rest are songs by Merikanto, Kauppi, Kotilainen, Kuula, Melartin, Maasalo, Järnefelt, Rubinstein, Nisonen, Arne, Tosti, and Ikonen. The voice is good. Particularly excellent and a discovery for me are the Finnish songs. I liked the ones by Kauppi and Merikanto very much. This CD is recommended. We must thank the Finnish Broadcasting Company to have reissued Sola's recordings.
I wish to thank Pekka Gronow to have introduced me to Sola.
Picture source: Finnish Heritage Agency
Source for the Kauppi song recording: National Library of Finland
Source for the Pagliacci recording